Want to stay on top of all the space news? Follow @universetoday on Twitter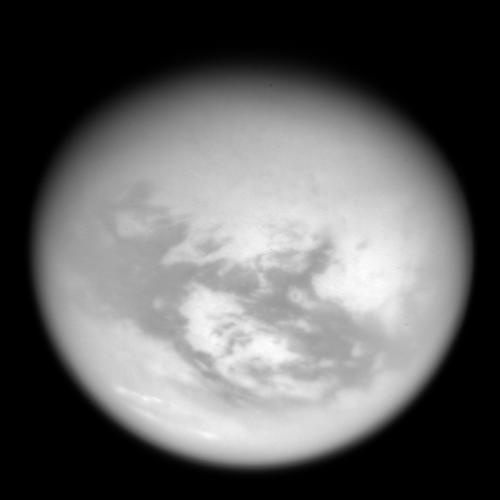 Saturn's moon Titan was first discovered in 1655 by the Dutch astronomer Christiaan Huygens. It's the largest moon orbiting Saturn, and in fact, it's the second largest moon in the solar System measuring 5151 km across. For the longest time, astronomers thought that Titan was actually the largest, but they realized that its thick atmosphere made it look larger than it really was.
You can also check out these cool telescopes that will help you see the beauty of planet Saturn.
Titan is the 20th most distant moon to orbit Saturn, and it's the 6th furthest out of Saturn's large, spheroid moons.
Titan is most composed of water ice and rocky material, and has a dense atmosphere that could be more than 800 km thick. ESA's Huygens probe plunged through Titan's atmosphere in 2004, capturing images during its descent, and landing on the surface of Titan.
The surface of Titan looks very young, and lacks the craters splattered across the surface of Saturn's other moons. Scientists think this is because there is an active hydrologic cycle working on Titan. Not water, like we have here on Earth, but liquid hydrocarbons – temperatures on Titan plunge down to −179 °C.. These compounds fall as rain, and collect in large lakes and seas across the surface of Titan.
Scientists think that the conditions on Titan are very similar to the early Earth, shortly after formation and the times when life might have formed. There could be enough organic material on Titan to start a similar process to what got life going early on in Earth's history.
Here's an article on Universe Today about how liquid methane drizzles down on Titan, and evidence of lakes on Titan.
Here's NASA's Cassini mission to Saturn and Titan, and here's ESA's version.
We have recorded two episodes of Astronomy Cast just about Saturn. The first is Episode 59: Saturn, and the second is Episode 61: Saturn's Moons.