[/caption]
For the first time in almost four centuries a total lunar eclipse coincided with the solstice – mid-winter for northern hemisphere skywatchers and mid-summer for the southern hemisphere. For those with a clear view of the sky (I was not that lucky!), the entire event was visible from North America, Greenland and Iceland, while western Europe saw the beginning stages before moonset and western Asia got the later stages after moonrise. Australia also saw the late stages of the eclipse.
People with clear skies in the northern hemisphere saw the Moon transformed into a "coppery orb," as Tony Hoffman from Queens, New York called it (see his image below.) The Moon didn't disappear completely, as the residual light from its surface is refracted by our atmosphere, resulting in the Moon turning a coppery, red or brown color. The eclipse lasted for about three and a half hours. See some images and videos from around the world, below. Clicking on each image will bring you to the original source.

You can see the more pictures and the write-up Stu did about the eclipse on his website, Cumbrian Sky: Eclipse-Watching from Narnia.

Astronomer Amanda Bauer took several images of the eclipsed Moon rising over Sydney, Australia, as seen below. See her website, Astropixie, for more images she took of the event.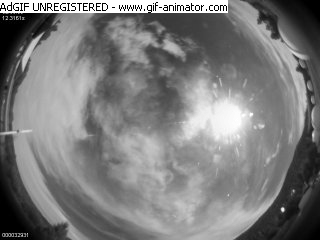 Former space shuttle technician Jen Scheer (@flyingjenny on Twitter) got up earlier than usual (she takes a daily sunrise picture from around Kennedy Space Center each morning) to capture some great shots of the eclipse. You can see more of her images at her Flickr page.
Here's a video taken from Savannah, Georgia in the US:
And another video from UT frequenter, Brent (aka Hellobozos) from Orlando Florida. He took 6 second avi's every 5 minutes for 6 hours, from 12:30am to 6am EST:
And one more from Carl Hamilton from Bowie, Maryland:
You can also see a great collection of images on JPL's I'm There Flickr Group, this collection at a German astronomy website called ASTROTREFF, this amazing set of images from Slovakia, Carolyn Collins Petersen has a bunch of images she took from near Boulder Colorado, and this NASA Flickr page.
Here are some more images sent in by readers:
This image was taken by photographer John O'Connor, who normally takes images of rockets and spacecraft (see his website NASATech, for amazing virtual tours of spacecraft, launchpads and more). He was up in the middle of the night to take images of space shuttle Discovery's intended rollback from the launchpad to the Vehicle Assembly Building, but the rollback was delayed because of a technical problem.
"I intended to take a couple of quick shots of totality before heading out but ended up spending 45 minutes shooting the moon, as they say," John wrote me. "This is my first attempt at astrophotography. I shot it with a 300 mm fixed focal length lens with a doubler on it. With the 1.5 multiplier factor on the 2/3 size sensor, it was about 900 mm focal length. It was 4 second shot at 100 ISO with an f4.5 aperture, as wide as the lens would let me go. Note the smudged stars. Even at a 4 second exposure the Earth's rotation is evident, blurring, ever-so-slightly, the lunar disk."