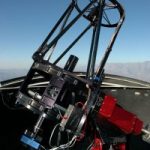 We've explained how to get into astronomy and buy your first telescope. Now we're going to take things to the next level and get you drooling about bigger and better telescopes. If you're serious about astronomy, what kinds of telescopes will give you the best bang for big bucks?
Click here to download the episode.
Or subscribe to: astronomycast.com/podcast.xml with your podcatching software.