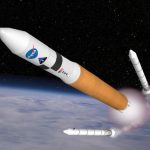 It's been more than 40 years since humans first set foot on the Moon. But plans are in place to return humans to the surface of the Moon, and maybe even to asteroids and the planet Mars. New rockets, landers and flight technology are all under development. Humans are pushing out into space again, and this time we're going to stay. Let's take a look at NASA's new Constellation Program. What's been developed so far, and what's coming up.
Click here to download the episode.
Or subscribe to: astronomycast.com/podcast.xml with your podcatching software.