Watch live the first "fast-track" human Soyuz flight to the International Space Station. The Soyuz TMA-08M crew will arrive at the ISS just five hours and 49 minutes after launch instead of the usual two days. Commander Pavel Vinogradov, flight engineer Alexander Misurkin and NASA astronaut Christopher Cassidy are scheduled for liftoff from the Baikonur Cosmodrome in Kazakhstan at 20:43 UTC (4:43:20 p.m. EDT) on Thursday, March 28, 2013. (If you missed the launch live, watch the video of it below:)


This is the first Soyuz crew to try out the new abbreviated four-orbit rendezvous with the International Space Station (in the past it has been 34 orbits.) This relatively new, modified launch and docking profile for the Russian ships has been tried successfully with three Progress resupply vehicles, and now Roscosmos and NASA have agreed to try it on a human flight.
If all goes well, the crew will dock at the Poisk module around 02:31 UTC on March 29 (10:32 p.m. EDT March 28). They will be joining the Expedition 35 crew already aboard: commander Chris Hadfield, Tom Marshburn and Roman Romanenko.
Here's a great explanation of the "fast-track" launch from Space.com: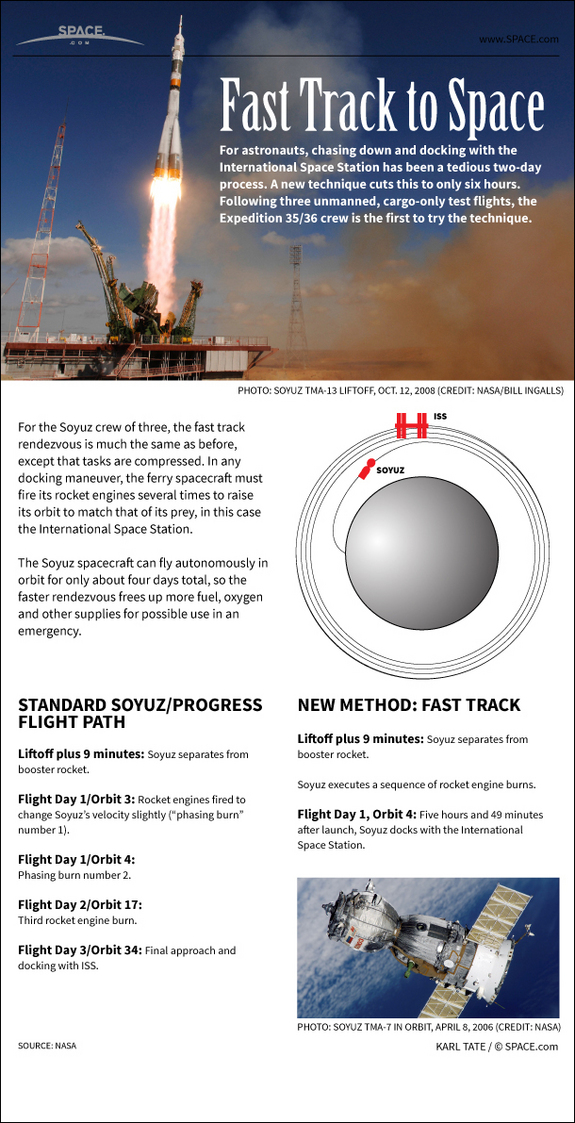 Source SPACE.com: All about our solar system, outer space and exploration