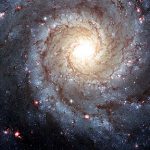 Astronomy is one of the scientific fields that have been completely shaken up by new media. The Internet has enabled communication between researchers in a dramatic new way, creating new collaborations, removing obstacles, and drawing in an army of enthusiastic volunteers to help with research. Let's take a look at how new media is helping change astronomy, and how you can get involved.
Click here to download the episode.
Or subscribe to: astronomycast.com/podcast.xml with your podcatching software.