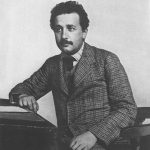 Quantum mechanics is the study of the very tiny; the nature of reality at the smallest scale. It's a science that defies common sense, and delivers no helpful analogies. And yet it delivers the goods, making scientific predictions with incredible accuracy. Let's look into the history of quantum theory, and then struggle to comprehend its connection to the Universe.
Click here to download the episode.
Or subscribe to: astronomycast.com/podcast.xml with your podcatching software.
Quantum Mechanics- Transcript and show notes.