Want to stay on top of all the space news? Follow @universetoday on Twitter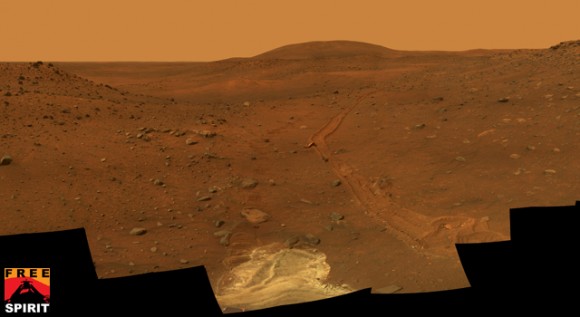 Mars is known as the Red Planet, but what makes Mars red? The red color of Mars comes from its surface geology. Spacecraft sent to Mars have determined there's a high amount of iron oxide in the soils of Mars. Here on Earth, we call that rust, and so the surface of Mars appears to be rusting.
But if Mars is a cold, dry world, how can it be rusty? Astronomers used to think that Mars was once a warmer, wetter world. It's cold and dry now, but Mars used to have large quantities on its surface, and that water acted on the surface of Mars for a long period of time. It possible that the iron oxide formed on the surface of Mars back then, and has just stayed on the surface.
A more recent theory is that the red color could have formed without water at all. Scientists performed an experiment where they tumbled grains of quartz until they were turned into a fine powder. Then when they added powdered magnetite, they were surprised to see the sand turn redder. So there's a way that iron oxide could have formed without water at all.
We've written several articles about Mars for Universe Today. Here's an article about some cool dunes on Mars, and here's an article about some new research about the color of Mars.
If you'd like more info on Mars, check out Hubblesite's News Releases about Mars, and here's a link to the NASA Mars Exploration home page.
We've also recorded an episode of Astronomy Cast all about Mars. Listen here, Episode 52: Mars.