Want to stay on top of all the space news? Follow @universetoday on Twitter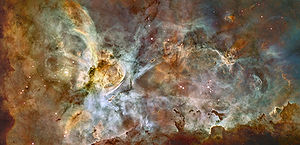 The Carina Nebula is known by several names: the Great Nebula in Carina, Eta Carinae Nebula, and NGC 3372. The nebula includes several O-type(blue) stars. Eta Carinae and HD 93129A are two of the most massive stars in the Milky Way galaxy. The nebula is estimated to be between 6,500 and 10,000 light years from Earth. The nebula is located in the Carina constellation.
The Carina nebula is one of the largest diffuse nebulae in our skies. It is four times larger and much brighter than the Orion nebula, but is not nearly as well known because of its location in the far Southern Hemisphere. It was discovered by Nicolas de Lacaille in 1751. He observed it from the Cape of Good Hope. Within the nebula is another nebula called Homunculus nebula. It is thought that this nebula was ejected in an enormous outburst in 1841 which briefly made Eta Carinae the second brightest star in the sky.
The main star in the Carina nebula is Eta Carinae. This star is a very luminous hypergiant star. It is four million times more luminous than our Sun and is believed to be as many as 150 times more massive than Sol. Eta Carinae is the most massive and luminous star that we have a large amount of data on. There are larger and more luminous stars, but the information on them is much more sketchy. Stars with more than 80 times the mass of the Sun produce more than a million times as much light as the Sun. There are only a few dozen of them in our galaxy. They flirt with disaster because they are near the theoretical Eddington limit, which means that the outward pressure of their radiation is almost strong enough to counteract gravity. Stars that are more than 120 solar masses exceed the Eddington limit and their gravity is barely strong enough to hold in its radiation and gas. This is believed to lead to a possible supernova or hypernova in the near future.
A portion of the Carina nebula is called the Keyhole Nebula. It was named by John Hershel in the 19th century. The Keyhole Nebula is a much smaller, darker cloud of cold molecules and dust, with bright filaments of hot, fluorescing gas, silhouetted against the much brighter background nebula. The diameter of the Keyhole nebula is close 7 light years.
There is a decent article about the Carina nebula here. Here on Universe Today we have a great article about the nebula that includes several good images. Astronomy Cast offers a good episode about many different nebulae.