Want to stay on top of all the space news? Follow @universetoday on Twitter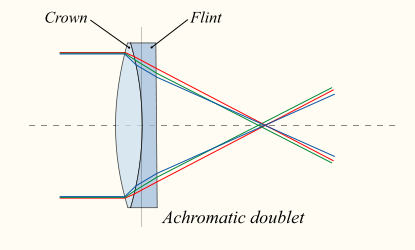 The achromatic lens is a special optics design of two mated lens – concave and convex – which more precisely focus the wavelengths of light onto the same plane. In order to understand the nature of this combination lens, it's necessary to understand exactly what's happening with the light and the lenses – as well as what it is trying to correct!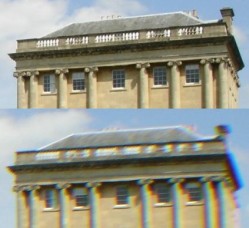 When this happens, chromatic aberration occurs and produces unwanted color fringing between dark and bright parts of the object being magnified. The optical spectrum cannot be focused at a single common point on the optical axis! But, remember our rules of medium and dispersion – because some types of positive lenses can have the amount of chromatic aberration greatly reduced by the properties of the glass itself. For example, glass containing fluorite or lanthunum has a very low level of dispersion. Good quality lenses will also include their Abbe number – measure of the lens' dispersion – which falls within an international glass code – a standard for classifying glasses for optical use.
Now that we understand what the achromatic lens is trying to correct – let's take a look at the two separate elements…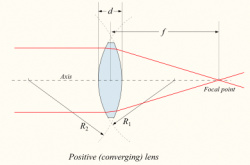 Crown Glass – The first element in an achromatic lens is a positive convex lens referred to as the "crown". The crown is the first light gathering source and it has a low refractive index and low dispersion rate. The particular type of glass used in the crown lens is so important that it usually has its own designation. For example, borosilicate glass (commonly known as BK7) is a designation used by the Schott glass company to denote this additive. Other crown glass elements which offer extremely low dispersion properties will also have their own designations – such as lens elements made of flourite.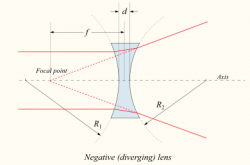 Flint Glass – The second element that incoming light rays meet in the compound achromatic lens design is called "flint". This one element concave lens is the negative portion of our equation – one with a relatively high refractive index and low Abbe number. The term "flint" originated with flint nodules found in the chalk deposits of southeast England that were used as a source of high purity silica – more optically perfect glass. However, true flint lenses contained no flint at all. Instead they were lead glasses containing around 4–60% lead oxide. Due to the environmental hazard that lead was discovered to produce, modern flint lenses contain much friendlier additives, such as titanium dioxide and zirconium dioxide.
Now, let's add them together…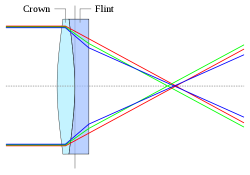 The Achromatic Lens – When the two elements, positive and negative – crown and flint, are cemented together, something magical happens… the incoming two wavelengths of light (typically red and blue) will now focus in the same plane! The positive power of the first lens – the crown element – isn't equaled by the negative power of the secondary – flint lens element. Together these two very different lens create a weak positive lens which converges the different wavelengths of light to a common focus. Now, before you become even more confused – this pairing is often referred to as a "doublet"!