Want to stay on top of all the space news? Follow @universetoday on Twitter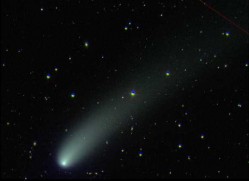 The Hale Bopp Comet a.k.a. the Great Comet of 1997 is perhaps the most observed comet ever, having been visible to the naked eye for 18 months. Coincidentally, it is also one of the brightest to have passed near our planet in recent years.
The Hale Bopp is a combination of the names of the two observers who first saw the comet – Alan Hale and Thomas Bopp. Hale saw it from New Mexico, while Bopp chanced upon it from Stanfield Arizona.
Because of its extreme brightness, Comet Hale Bopp was visible from Earth despite the comet's very far distance from it. At 7.2 AU from the Sun, the comet's position when it was seen, a typical comet would have exhibited very faint brightness. What's even more amazing is that an image taken in 1993 from the Anglo-Australian telescope showed the Hale Bopp Comet even while it was still at 13 AU from the Sun.
Astronomers hoped that, because of its brightness, Hale Bopp would be very visible once it reached perihelion. Sure enough, they weren't disappointed. As a matter of fact, neither were the general public, who were treated to its awesome display on January of that year.
The timing of the comet's fly-by couldn't have been better – it came at a time when the Internet was rapidly gaining popularity. Hence, numerous websites were found featuring it. As a result, more people knew about it than any other comet in history.
Unfortunately, the excitement was also accompanied by paranoia, panic, and even a false sense of euphoria as many people believed it signaled the end of the world. The mass suicide of the Heaven's Gate (an American UFO cult) members drummed up even more doomsday stories.
During its fly-by, the Hale Bopp Comet was able to provide a treasure trove of scientific information.
Scientists discovered a third type of comet tail on it. While it is known that comets have 2 types of tails, gas and dust, this one also had a sodium tail. This tail, which extended up to 50 million kilometers from the nucleus, was found to contain neutral atoms. It positioned itself between the dust tail, which followed the comet's trajectory, and the gas tail, which pointed away from the Sun.
It was also discovered that the Hale Bopp Comet carried a huge amount of deuterium and contained argon. Argon has never been detected on any other comet.
We have some related articles here in Universe Today. Here are the links:
Here are the links of two more articles from NASA:
Here are two episodes at Astronomy Cast that you might want to check out as well: