Want to stay on top of all the space news? Follow @universetoday on Twitter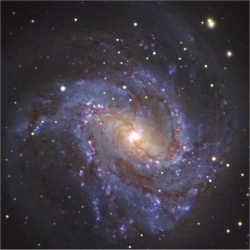 One of the features of the Big Bang cosmological model is an expanding universe. That is, starting from a very hot and very dense singularity, the components that evolved into what is now our universe first experienced a cataclysmic event. What followed was a continuous expansion, cooling, and thinning out of these components.
The idea that the Universe is expanding has far-reaching ramifications in the field of physics than simply being another amazing astronomical phenomena. For one, it allows for a unification between those who have spent their lives studying the very small and those who have dedicated theirs with the very large.
I am talking about the particle physicists and the astrophysicists. For a long time, particle physicists toiled in the middle of a particle zoo. The discoveries of quarks, leptons, as well as the strong, electromagnetic, weak, and gravitational forces filled their labs with mixed feelings.
On one hand, they were constantly excited with the wealth of discoveries of these numerous tiny particles and their interactions, while on the other, they were conscious of the fact that the diversity of these forces deviated from the idea that nature was biased towards simplicity. They realized these forces should eventually unite for simplicity to prevail.
From their calculations, this was only possible in the presence of very high energies. But since these energies were not present anywhere in the Universe, then the possibility was useless. This puzzle was solved when scientists studying cosmology realized that the Universe was expanding and as a result, was cooling and becoming less dense.
Scientists analyzed that if this were true, then it could be possible that the Universe was once very hot and very dense. In these conditions, the energies would have been very very high. In fact, probably high enough for the 4 forces to unite. It hasn't been proven yet but we're getting there.
Proofs that the Universe experienced a cataclysmic event and, subsequently, that it is expanding are present.
One of them is the detection of the cosmic microwave background radiation exhibiting a thermal black body spectrum of about 3 K. Another is the collection of red shift observations for galaxies, i.e., the further from us the galaxies are, the greater their measured red-shifts. That means, the outermost galaxies are speeding away much faster than the innermost ones. These two alone support the Big Bang theory.
With the construction of the Large Hadron Collider (LHC) at CERN, the conditions that were present during the Big Bang might just be reconstructed. Particle physicists and even astrophysicists are therefore hoping that the anticipated unification of the 4 forces will soon be observed.
We've got a few articles that touch on the expanding universe here in Universe Today. Here are two of them:
NASA also has some more:
Tired eyes? Let your ears help you learn for a change. Here are some episodes from Astronomy Cast that just might suit your taste: