Want to stay on top of all the space news? Follow @universetoday on Twitter
Are you curious about how the planet Saturn looks in a telescope? When Galileo first saw Saturn in his primative refractor telescope, he thought the planet had "ears". If you see Saturn in a small telescope, you'll know why? Let's find out what it's like to see Saturn in a telescope… But before anything else, check out these cool telescopes that will help you see the beauty of planet Saturn.
Saturn In A Small Telescope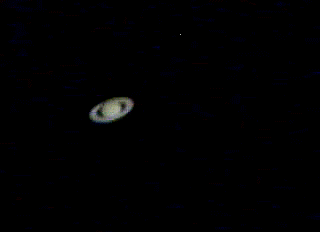 A small refractor or reflector telescope can reveal Saturn's beautiful ring system, but not in very much detail. If we stop to think about how very far away Saturn is, it's a wonder that we can see it at all! However, when viewing conditions are steady it is easy to up the magnification factor and enjoy Saturn's ring system and watch for its moons as well. Titan is usually quite visible well away from the ring system and during exceptional clarity, you can see the smaller moons against the ring edges.
Saturn In A Medium Telescope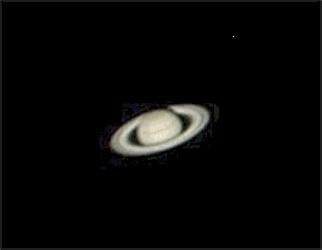 With more resolving power, the view of Saturn much improves, but remember… the size doesn't. The size depends on the magnification factor and the clarity of the image is dependent on the atmosphere. In a medium sized telescope (4.5″ to 6″) Saturn is now beginning to show signs of being a creamy yellow color and the Cassini division is clearly seen, as well as the shadow of the rings on the planet surface and the shadow of the planet surface on the ring system. Look for other cool things like the saturnian moons, too!
Saturn In A Larger Telescope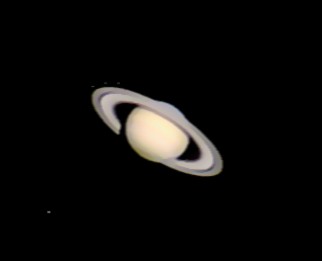 With even more resolving power at your disposal, it is possible to use very high magnification powers and resolve even greater details on Saturn. Always remember that any view is dependent on the atmospheric conditions and there may be times when you must wait for several minutes or perhaps hours for that one moment of pure clarity when you catch a fine detail like extra divisions in the ring system. It's moments like these that are very worth waiting for and what makes planetary studies worthwhile. Even when the viewing isn't the greatest, Saturn's wide Cassini division is easily seen in a larger telescope and several satellites are easily followed as they orbit.
Would you like to see Saturn in a telescope "live"? Here you go!