Want to stay on top of all the space news? Follow @universetoday on Twitter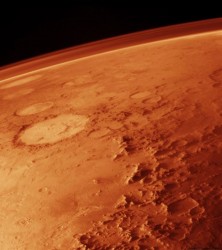 Our home planet is perfectly tailored for life. We've got a breathable atmosphere, comfortable temperatures, and protection from space-based radiation. What more could we hope for? Well, another Earth, of course. Since Earth is the only perfectly habitble world we know of, what is the most Earth like place in the Solar System?
The most obvious candidate is the Red Planet Mars. Located just a little further from the Sun than the Earth, it's surprisingly similar to our home planet in many ways. Its day is about 25 hours long, so only a little longer than Earth. Temperatures in the Martian summer near the equator can get as high as 20 °C – that's shorts and a t-shirt weather. Spacecraft have found huge deposits of water ice just under the surface around the planet. Doesn't it sound perfect?
Well, Mars has a few big problems. For starters, that 20 °C is a maximum. For most of the time it's much colder. Temperatures on Mars can dip down to −140 °C during the polar winters. Fine, wear a jacket.
Another problem… there's no air. The atmosphere on Mars is less than 1% the surface pressure of Earth. And what little atmosphere there is, it's mostly carbon dioxide. You can't breathe the air, and the pressure's so low, you'd have trouble keeping water inside your body. Oh, and there's almost no protection from cosmic rays and radiation from the solar wind, since Mars doesn't have a magnetic field like Earth.
There's another surprising place in the Solar System that's quite Earth like: the cloud tops of Venus. Once you get 50 km above the surface of Venus, the temperature becomes the same as Earth. Furthermore the air pressure is about the same as Earth at sea level. The atmosphere is almost entirely carbon dioxide, but it would be possible to step outside on your floating Venus hotel without a spacesuit – as long as you had an air tank.
The surface of Venus is another story, though. It's a hellish place, with temperatures that would fry you, and pressures that would squish you. Stick to the cloud tops.
They're frozen worlds today, but when the Sun expands into a red giant, billions of years in the future, the Sun's habitable zone will expand out to warm up the Kuiper belt. Formerly frozen objects like Pluto will melt to become liquid water worlds. Perhaps future explorers could warm themselves on the sunny beaches of Pluto.
But in the end, there's no place in the Solar System that matches the climate and habitability of our home planet. A good reason to take better care of or planet.
Reference:
NASA Solar System Exploration