Want to stay on top of all the space news? Follow @universetoday on Twitter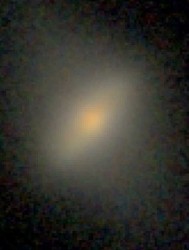 The Big Rip is an extreme scenario that supersedes that of a Big Freeze. Both of them are possible consequences of an ever expanding universe. While the Big Freeze can take place if the forces that are believed to govern the current rate of expansion are constant, the Big Rip will happen if the forces that favor expansion are further increased.
A number of factors can influence the future of the Universe. Among those believed by scientists as the most influential are its density, shape, and the true behavior of an unknown entity called dark energy.
If the density of the Universe is found to be lesser than a critical density, the Universe may continue expanding. If it is equal to the critical density, the Universe will still continue to expand, but in a decreasing rate. Finally, if the density is greater, the Universe will then stop expanding at a certain time in the future and eventually start to collapse.
Accurate readings from WMAP point to a flat universe with a density much less than the critical. WMAP stands for Wilkinson Microwave Anisotropy Probe. This device bases its findings from readings of cosmic microwave background radiation (CMBR), which are remnants of the Big Bang.
The two observations made via WMAP mentioned in the first sentence in the previous paragraph are contradicting because a flat universe supposedly coincides with a density equal to the critical. The only explanation is the possible presence of an entity exerting outward forces, favoring an increasing rate of expansion. This entity is dubbed dark energy.
Therefore, a better understanding of dark energy will enable scientists to make better predictions as with regards to the Universe's ultimate fate. If the strength of dark energy continues to grow, then the expansion will continue to accelerate and the ultimate ending will be the Big Rip.
The latest data gathered by Chandra, the X-ray observatory, indicates that dark energy is not growing in strength. This has prompted scientists to believe that dark energy is in fact Einstein's General Relativity cosmological constant. If this is true, then the likelihood of the Big Rip ever taking place is substantially diminished.
This does not, however, eliminate the possibility of a Big Freeze. That is, the scenario wherein the Universe will continue expanding until it loses all usable heat. If the dark energy's strength doesn't increase, it doesn't necessarily follow that the Universe will stop expanding. Clearly, an even deeper understanding of this mysterious entity is necessary.
Articles on the big rip are so hot. It's a good thing we've got a nice collection of them here in Universe Today. Here are two of them:
Here are links from NASA about the big rip:
Tired eyes? Let your ears help you learn for a change. Here are some episodes from Astronomy Cast that just might suit your taste:
A Universe of Dark Energy
Sources:
Hubblesite
NASA WMAP