Want to stay on top of all the space news? Follow @universetoday on Twitter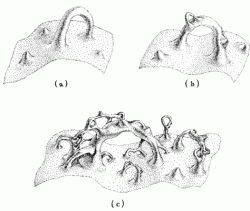 Quantum Foam is the series of subatomic disturbances in space time. Quantum Mechanics states that at the subatomic level of a Planck Length that the uncertainty principle comes into play. Essentially that means that space time at such a level can not be exactly measured or determined since it can exist one moment and not exist the next all without violation of the law of conservation.
It is also called space time foam based on the fact that Einstein stated in his theory of relativity that gravity and space time are one. This means that any disturbances on a the quantum level would effect space time as a whole.
The concept was first proposed in the 60s but it has not been definitely used for much outside of theory. However there have been some writers who have used the concept in interesting ways. Michael Crichton in his book Timeline, uses the concept of quantum foam wormholes as a way to time travel. However it is not traveling to a specific time but more to a specific universe or dimension concurrently experiencing a time period in our universe's history.
While still a theory scientist are starting to find interesting clues that may prove Quantum foam's existence without a doubt. One possible source of data is the radio signals of black holes and pulsars. Scientist have hypothesized that the radiation that these bodies emit is actually a portion of the "cosmic noise" that would be produced by quantum foam. In the case of black holes, scientist think that the radiation emitted at the event horizon of a black hole is actually the data of all objects or energy that fell into it. If this is true it would seem that the Universe is a large hologram being projected from a cosmic master program. This master program would be the fluctuations of space time at the atomic level that we call quantum foam.
Another possible source of information would be the Large Hadron Collider. As the largest and most powerful particle collider yet made it would give scientist to look at even smaller subatomic particles close up. It may help physicist to answer many of the remaining questions left about quantum mechanics.
If you enjoyed this article there are several great pieces that you can read on Universe Today. There is an interesting pieces on General relativity and one about our virtual universe.
You can also find some great resources online. You can check out the Goddard spaceflight web page at NASA.gov. Here is a link to lectures on the subject from the University of Oregon web site.
You should also check out Astronomy Cast. Episode 44 talks about Einstein's General Theory of Relativity.
Source: Wikipedia