Want to stay on top of all the space news? Follow @universetoday on Twitter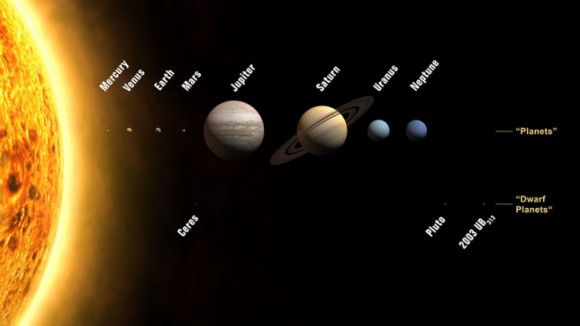 Are you wondering how many planets are in the Solar System? Until just a few years ago, there were 9 planets in the Solar System. However, the International Astronomical Union decided that Pluto is no longer a planet, so there are now only 8 planets in the Solar System.
Why is Pluto not a planet? We have a whole article that discusses this in great detail, but it happened because astronomers discovered a new object larger than Pluto out beyond its orbit. This object is called Eris, and it's at least a few hundred kilometers bigger than Pluto. The IAU wondered if this object should be considered a planet too?
At that, there could have been 10 planets in the Solar System, and maybe more.
The IAU met in decided that planets need to have 3 things:
- they need to orbit the Sun
- they need to have enough gravity to pull themselves into a ball
- they need to have cleared out all other objects from their orbit
Although it orbits the Sun, and has pulled itself into a sphere, Pluto has failed to clear out all the other objects from its orbit. Earth more than 1 million times more massive than all the other material in its orbit combined, while Pluto is just a tiny fraction of the rest of the icy material around it.
The IAU decided that Pluto and Eris should be reclassified as dwarf planets. The asteroid Ceres meets those requirements, so it's a dwarf planet too.
So, how many planets in the Solar System? Until a new, large object is discovered out beyond Pluto, there are only 8 planets, and 3 dwarf planets.
If you want to read the full news about why Pluto isn't a planet, read the story here. You can also read the announcement from the IAU describing what a dwarf planet is.
Here's a link to an overview of the Solar System from the Nine Planets, and NASA's news about the Solar System. Here's an article that theorizes that there are 12 planet.
We have recorded a whole series of podcasts about the Solar System at Astronomy Cast. Check them out here.