Want to stay on top of all the space news? Follow @universetoday on Twitter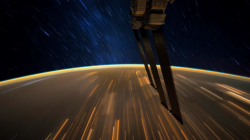 People keep making these videos from ISS photography, and we keep loving them. Here's the latest, assembled by photographer Knate Myers to a track by John Murphy (from the movie soundtrack for Sunshine) it's a beautiful tour of nighttime passes of the Space Station over our planet. Stars, city lights, airglow, aurorae… it's nothing you haven't seen before, but everything worth seeing again. Watch it.
Video: Knate Myers. All images courtesy of the Image Science & Analysis Laboratory, NASA Johnson Space Center. Via the Gateway to Astronaut Photography of Earth.