Want to stay on top of all the space news? Follow @universetoday on Twitter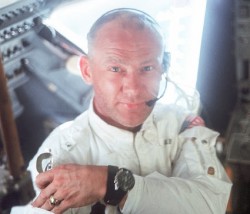 Edwin Eugene Aldrin was an American astronaut born in 1930. Originally, his nickname was Buzz because his sisters could not pronounce "brother," so it ended up turning into "buzzer" and then "Buzz"; however, in 1988 he legally changed his name to Buzz. Although he was accepted to MIT, Aldrin ended up going to West Point and majored in mechanical engineering. He graduated third in his class from West Point.
After graduating, Buzz Aldrin ended up serving in the U.S. Air Force. As a jet fighter pilot during the Korean War, he flew 66 missions and shot down two planes. A photo he took during the war that shows a Russian pilot ejecting from a planet that had been hit actually ended up on the cover of Life magazine. He then worked as an aerial gunnery instructor and an aide to the dean of faculty at the U.S. Air Force Academy as well as a flight commander. Aldrin went on to earn his doctorate in Aeronautics from Massachusetts Institute of Technology. Currently, he has six honorary degrees from different universities.
He was selected to be an astronaut in October 1963 by NASA. His first mission in space was on the Gemini 12, which was a four-day mission. During that mission he spent more than five hours outside of the spacecraft spacewalking.  Buzz Aldrin is perhaps most famous for being the second astronaut to walk on the Moon. He served as the lunar module pilot for Apollo 11. After Neil Armstrong, he set foot on the Moon, spending two hours and fifteen minutes walking and driving around on the surface.
Like Neil Armstrong, Buzz Aldrin has received numerous medals and awards including the Presidential Medal of Freedom, the Air Force Distinguished Service Medal, three Air Medals, the NASA Distinguished Service Medal, the NASA Exceptional Service Medal, two NASA Space Flight Medals, and the Harmon International Trophy. He has also been recognized and awarded numerous other times by various organizations.
Buzz Aldrin retired from NASA in 1971. Upon resigning from NASA, Aldrin had spent 289 hours and 53 minutes in space. Following his retirement, Aldrin remained active in promoting space. He created a nonprofit organization ShareSpace, which supports space education. He has also written several books. More recently, Buzz Aldrin released a CD with Snoop Dogg and other rappers in order to promote space. He has been very vocal regarding his belief that NASA should be going beyond previous achievements in space exploration.
Universe Today has articles on Buzz Aldrin and Buzz Aldrin raps with Snoop Dogg.
For more information, try Buzz Aldrin and Snoop Dogg and biography of Buzz Aldrin.
Astronomy Cast has episodes on the Moon.
Source: NASA