Want to stay on top of all the space news? Follow @universetoday on Twitter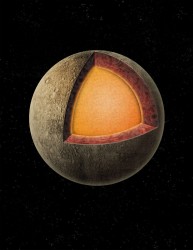 La densidad de Mercurio es el planeta 5,427 gramos por centímetro cúbico.
Esto hace que la densidad de Mercurio el segundo planeta más densa en el Sistema Solar después de la Tierra. Sólo por comparación, la densidad de la Tierra es 5,515 g/cm3. Así, Mercurio es casi tan densa como la Tierra.
Y aquí está la cosa. La tierra tiene mucho más masiva que Mercurio, por lo que tiene mucho más gravedad para comprimir abajo. Si se trata sin, en realidad la Tierra tienen una densidad de 4 gramos por centímetro cúbico, mientras que Mercurio sólo sería un poco menos denso. Esto significa que el mercurio es, probablemente, un 60-70% de metales, y el 30% de silicato. El núcleo de Mercurio probablemente representa el 75% del radio del planeta.