Want to stay on top of all the space news? Follow @universetoday on Twitter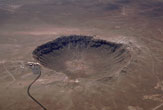 The possibility of an asteroid strike is very real. Every body in the solar system has been struck by an asteroid or other space object at some time in its history. The Earth has endured numerous asteroid strikes in the ancient past. Some believe that the latest was in Siberia in the early 1900′s. The question shouldn't be if an asteroid strike is a real possibility, but when will it happen again.
In truth, small objects impact the Earth on a regular basis. Science has predicted a pattern of the frequency that larger objects will hit the Earth. Asteroids with a 1 km diameter impact the Earth every 500,000 years on average. Large collisions with five kilometer objects happen approximately once every ten million years. Asteroids with diameters of 5-10 m impact the Earth's atmosphere approximately once per year, but break up and most of the material is vaporized in the upper atmosphere. Objects of diameters of over 50 meters strike the Earth approximately once every thousand years. This is probably what happened in Siberia in 1908. One theory for the demise of the dinosaurs is a large impact event that caused catastrophic and quick environmental changes.
An asteroid strike is real enough that NASA has set up the SENTRY program to monitor all near Earth asteroids(NEA's). The next close call is supposed to be in about 20 years with on to follow just 8 years later. Neither should strike the Earth, but they will come a little close for comfort. Maybe by that time our space programs will be advanced enough to send a ship out to study them or take the opportunity to get samples from them.
An asteroid strike may seem like a thing buried in sci-fi movies, but there is evidence of them all over the Earth. The Arizona crater (Berringer crater) and the devastation found in Tunguska, Siberia are two of the most recent events. What if the asteroids had hit in New York City or Ontario? The loss of property and life would have been devastating to either country.
We have written many stories about asteroid strikes on Universe Today. Here's an article about new clues for the great dying, and here's an article about how just a single asteroid might have wiped out the dinosaurs.
Want more resources on asteroids? Here's NASA's Lunar and Planetary Science Page on asteroids. And here's Hubblesite's News Releases about Asteroids.
We have recorded two episodes of Astronomy Cast about asteroids. There's Episode 55: The Asteroid Belt, and here's Episode 29: Asteroids Make Bad Neighbors.
References:
NASA: Will an asteroid hit the Earth?
NASA: Is Earth in danger of being hit by an asteroid?
NASA: The Probability of Collisions with Earth