Want to stay on top of all the space news? Follow @universetoday on Twitter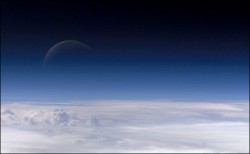 The distance to space is surprisingly small – space isn't very far away. You would have to get pretty close to Earth to be able to see the thin atmosphere surrounding our planet.
The reality is that there is no clear boundary between the Earth and outer space. As you climb in altitude, the atmosphere gets less dense as you go. You need to get about 350 km (220 miles) above the Earth's surface to get to the point where a spacecraft can orbit the planet. Any lower than that, and the spacecraft will bump into too much atmosphere to remain in orbit very long.
But various agencies have designated lower altitudes for the beginning of space. The Federation Aeronautique Internationale has established the Karman line at an altitude of 100 km (62 miles). Above this altitude, a vehicle would need to be going more than orbital velocity to get enough lift from the atmosphere to support itself.
NASA considers people to be astronauts once they've traveled higher than 80 km (50 miles).
And the Ansari X-Prize competition required entrants to travel above an altitude of 100 km twice in two weeks to win the $10 million prize.
The Earth's atmosphere extends out 10,000 km above the surface of the planet; although, it is extremely tenuous at this altitude. Only the lightest gases, like hydrogen and helium can be found there. It is from this layer of the atmosphere, called the exosphere, that molecules from Earth can escape into space.
So, if you're wondering how far space is, I would go with the 100 km (62 mile) answer. It's a pretty safe one.
We have written many articles about space for Universe Today. Here's an article about the problem with space debris, and here's an article about human space exploration.
Want more resources on space? Here's a link to NASA's Human Spaceflight page, and here's NASA's Space Place.
We have also recorded many episode of Astronomy Cast about space. Episode 100 is all about rockets, and Episode 84 is about getting around the Solar System.