Want to stay on top of all the space news? Follow @universetoday on Twitter

Just what exactly is a telescope eyepiece? They come in a array of sizes, magnification factors, styles, types and manufacturers… One thing is for certain, no telescope would work without one! If you're curious about what a telescope eyepiece is, what it does and what makes one telescope eyepiece different than another, then follow along…
Telescope Eyepiece Barrel Sizes
The best way to learn about telescope eyepieces is to start with fundamentals. To make any telescope eyepiece work in a telescope, it must first fit the focuser. While there are exotic focuser sizes, the standard sizes for almost all telescope eyepieces are expressed as .965″, 1.25″ and 2″. This is a dimension which comes from measuring the diameter of the telescope eyepiece barrel. Let's take a look at each one.

The .965″ Telescope Eyepiece: Once upon a time, almost all amateur telescopes came equipped with .965″ eyepieces. They were small, inexpensive to produce and very limited. Because of the size, the style was also limited to a few basic designs. While there are a few good quality .965″ eyepieces out there, most are inferior quality, have a very restricted field of view and should be avoided whenever possible.

The 1.25″ Telescope Eyepiece: By the mid-1980s, the amateur telescope industry was beginning to blossom and so were telescope sales – making the production of larger eyepieces not only more profitable but necessary to keep interest in the hobby. This larger design offered a more comfortable field of view, room for more elements and design improvements, brighter images and improved contrast. It didn't take long before the 1.25″ eyepiece became the industry standard and virtually every telescope offered today is equipped with a 1.25″ focuser assembly.

Adapting Telescope Eyepiece Sizes: No matter what size telescope focuser you may have, there are adapters available to make any eyepiece work with your focuser and eyepiece. For example, you can adapt a .965″ focuser to accept a 1.25″ eyepiece – or adapt a 2″ focuser to accept a 1.25″ eyepiece. However, piling on adapters to make a .965″ focuser use a 2″ eyepiece isn't helping – nor is restricting a 2″ focuser to use .965″ eyepieces. Adapters are simply a nice tool to help you make the most of the telescope eyepieces and equipment that you may have collected over the years. Do not discard an old eyepiece because it seems "out of date" – you may have a hidden gem!
Telescope Eyepiece Focal Lengths – The Magnification Factor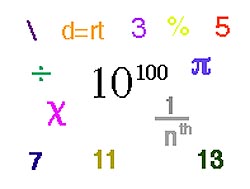 The magnifying power of any eyepiece is a simple equation expressed in millimeters: divide the focal length of the telescope by the focal length of the eyepiece and your answer is the amount of magnification. Long focal length eyepieces such as 32mm and 25mm are lower magnification, while lower numbers like 10mm and 5mm are magnifying powerhouses. While it would be tempting to use as much magnification as possible, all telescopes (and the human eye) have practical limits. If you look through your telescope with two different focal length eyepieces, you'll see you have the choice of a small, bright, crisp image or a big, blurry, dimmer image – but why? A telescope can only gather a fixed amount of light. When using high magnification (lower focal length number) you're only spreading the same light over a larger area. Even the best telescope can only deliver a certain amount of detail and magnifying beyond a telescope's limits only makes for empty magnification.
So let's talk about magnifying powers! Low magnification such as 20-50X are ideal for wide-field views of extended deep-sky objects under dark skies, while 20-100X are great for helping to locate objects and most deep sky observing. 75-200X is suitable for the Moon, planets and more compact objects such as globular clusters or wide double stars, while more than 200X truly requires steady skies to make the additional magnification work for you.

While it may seem to confuse the issue, you also need to consider your telescope's f-ratio. To make a particular focal length eyepiece work well with your telescope, you'll need to determine exit pupil. Before you panic at the thought of more math, exit pupil is merely the focal length of the eyepiece divided by the f-ratio. For example, an f/5 telescope with a 25mm eyepiece would deliver 5mm of exit pupil. Why is this important? At low magnification the exit pupil must be smaller than your eye (5-7mm) or the extra light is simply lost. For high magnifications, the exit pupil must be between .5 and 1.0mm of exit pupil to avoid empty magnification. Using our f/5 example, a 5mm eyepiece would deliver 1.0mm of exit pupil and be right at the practical limits of magnification. Now that you know a little bit more about choosing an eyepiece by focal length, let's take a very brief look at what each length is well suited for! Remember, telescope eyepieces come from a variety of manufacturers, so we're just talking about general applications.
2mm-4.9mm Telescope Eyepieces: These produce very high magnification and will work best on long focal length refractors and standard Schmidt-Cassegrains. Unless you have very steady seeing, this range more than likely will produce too much magnification on other telescope styles.
5mm – 6.9mm Telescope Eyepieces: These make good planetary detail and double star eyepieces for long focal length telescopes and will work satisfactorily in shorter focal length telescopes with steady seeing conditions.
7mm – 9.9mm Telescope Eyepieces: These are right in the optimum ballpark for high magnification for shorter focal length telescopes and serve as good planetary, double star and lunar details units.
10mm – 13.9mm Telescope Eyepieces: These work across all focal lengths and offer great background darkening capabilities for studying planetary nebula, small galaxies, planetary details and lunar details.
14mm – 17.9mm Telescope Eyepieces: These are a great mid-range magnification for all focal lengths and will help resolve globular clusters, galaxy details and spot planetary nebulae.
18mm – 24.9mm Telescope Eyepieces: These will work as nicely on long focal length telescopes to show wide field and more extended objects. Shorter focal length telescopes will enjoy great mid-range magnification for objects like galaxy clusters and large open clusters.
25mm – 30.9mm Telescope Eyepieces: These are extended field eyepieces for longer focal length – good for large nebula and open clusters. For shorter focal length, they are fantastic for large objects such as the Orion nebula, views of the full lunar disc, large open clusters and more. This multi-purpose magnification range also makes for good "locator" eyepieces in all focal lengths.
31mm – 39.9mm Telescope Eyepieces: These are well suited to shorter focal length telescopes for extended views and large, starry fields.
40mm Telescope Eyepieces and Above: These are exclusively the domain of shorter focal lengths. This magnification range is superb for showing large, starry vistas… extended nebula with star fields, etc.
Telescope Eyepiece Types or Designs
Over the years, the telescope eyepiece has underwent a lot of design changes! While a good many of these are obsolete, who knows what you may stumble upon in an attic or at a tag sale? Never discard an old eyepiece without consulting with a trusted, experienced astronomer. What appears to be a useless old piece of junk could very well be an historical gem! Now, let's take a look at these designs…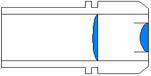 Huygens Telescope Eyepiece: At one time, these were supplied as .965″ eyepieces with many amateur telescopes. They were a simple, two element design that had very short eye relief and a very restricted field of view.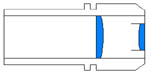 Ramsden Telescope Eyepiece: This is also a two element design with improved optical quality, but it simply isn't up to modern standards. The Ramsden has a small field of view and is best suited for telescopes with f-ratios of less than f/10.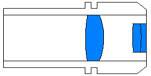 Kellner Telescope Eyepiece: The Kellner is a three element design that delivers sharp, bright images at low to medium powers and works best in small to medium telescopes, Kellner eyepieces are noted for an apparent field of view of about 40 degrees and good eye relief at low power.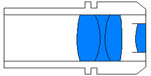 Orthoscopic Telescope Eyepiece: The Orthoscopic eyepiece is a four element design and is still often considered the best all-round eyepiece for planetary, lunar and solar viewing. It is noted for sharp views, excellent color correction, good contrast and longer eye relief.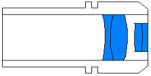 Plossl Telescope Eyepiece: The four element Plossl design is perhaps the most popular telescope eyepiece design on today's market and an all-around performer. It provides excellent image quality, good eye relief and an apparent field of view of about 50 degrees. A well manufactured Plossl will deliver high contrast and pinpoint sharpness out to the edge of the field of view.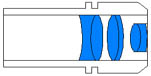 Erfle Telescope Eyepiece: The Erfle consist of five or six elements and was created solely for an ultra wide field of view – such as 60 to 70 degrees. At low powers it provides impressive deep sky views – huge swatches of sky with contrasty backgrounds and pinpoint stars. Galaxies and nebulae are framed by the fields in which they lay. However, at high magnification the image sharpness can become distorted at the edges of some manufacturer designs in some telescopes without corrective measures.
Telescope Eyepieces – Exotic Glasses and More
Now that you know much more about telescope eyepieces, there are a few other terms you just might encounter – such as lanthunum. Lanthunum optical glass offers extra long eye relief and excellent field of view. ED optical glass stands for Extra Low Dispersion, and like lanthanum gives better eye relief and field of view – turning higher power eyepieces into a pleasure instead of a peep-hole.

When choosing a telescope eyepiece, be sure to look for multi-coatings, internal baffling and blackening to prevent reflections, and internal threading to accept filters. A quality manufacturer will disclose all the information you need to make a good decision about a telescope eyepiece. While buying an expensive telescope eyepiece will not turn a bad telescope into a good one, a high quality eyepiece will turn a good telescope into an extraordinary optical experience!