Want to stay on top of all the space news? Follow @universetoday on Twitter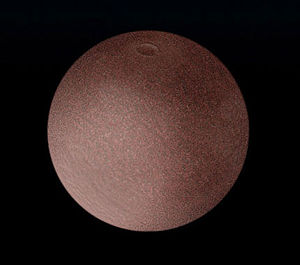 A Kuiper Belt Object discovered three years ago finally has a real name. It's also officially been classified as a dwarf planet, and plutoid as well, by the International Astronomical Union (IAU). Formerly known as 2005 FY9, and also as 136472, (in addition to being unofficially called Easterbunny) the third largest known trans-Neptunian object is now Makemake. Pronouced like "maki-maki," the object was named after the creator god from Easter Island mythology. Astronomer Mike Brown, one of the discoverers of Makemake, wrote in his blog that the IAU finally accepted his six-month old proposal to give the object a proper name. "Three years is a long time to have only a license plate number instead of a name," wrote Brown, who appears to be pleased that the IAU accepted the name that he and his team suggested.

Makemake is now the fourth designated dwarf planet in the solar system, and the third plutoid, reclassified as such just a month after the category of plutoid was created.
Makemake is currently visually the second brightest Kuiper belt object after Pluto, and with an apparent magnitude of about 16.7, it's bright enough to be visible using high-end amateur telescopes. It can be seen in the constellation Coma Berenices.
The Spitzer Space Telescope has studied Makemake with its infrared capabilities, which showed the presence of methane, possibly in Makemake's atmosphere. Its size is not precisely known, but from the Spitzer data, combined with the similarities of spectrum with Pluto, astronomers estimate a size about about 1,500 km diameter. No satellites have been detected orbiting Makemake.
This object was discovered by Mike Brown, Chad Trujillo and David Rainowitz on March 31, 2005, just before Easter that year. They nicknamed it Easterbunny (which is easier to say than 2005 FY9 or 136472) and after tossing a few different names around, they finally came up with Makemake because of its Easter Island, (also known as Rapa Nui) connection.
Makemake is the creator of humanity and the god of fertility in the mythology of the South Pacific island of Rapa Nui. He was the chief god of the Tangata manu bird-man cult and was worshipped in the form of sea birds, which were his incarnation. His material symbol, a man with a bird's head, can be found carved in petroglyphs on the island.
Original News Sources: Mike Brown's Planets, Slashdot