Want to stay on top of all the space news? Follow @universetoday on Twitter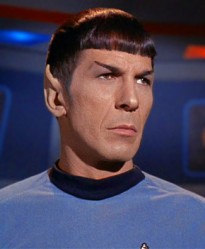 Have you ever wanted to test your astronomy knowledge against the best? Then take the warp speed jump to Spock's Astro Quiz. It's more than just astronomy trivia, it's a great way to test your astronomy knowledge, learn more about astronomy related topics and interact via live chat with others interested in astronomy…
Welcome to Spock's Astro Quiz, a great place to see just how much you know about astronomy and to enjoy the company of astronomy minded individuals. No special knowledge, secret passwords, or fancy hoops to jump through to enjoy the fun… All you have to do is click Log In and get started!
While you're there, this interactive site will not only allow to test your astronomy skill against Spock's, but to chat live with astronomy-minded visitors and play against each other as well. Just a word of caution though… Spock plays a clean astronomy game. Use a swear word and you'll be warned once. Do it again and you're permanently beamed out. The astronomy quiz and astronomy chat board is continually monitored and safe for players of all ages. Solicitors of any type will be immediately banned.
Test your astronomy skill… Enjoy the company of other astronomy friends during cloudy nights… And live long and prosper!
Brought to you by Macedon Ranges Observatory.