Want to stay on top of all the space news? Follow @universetoday on Twitter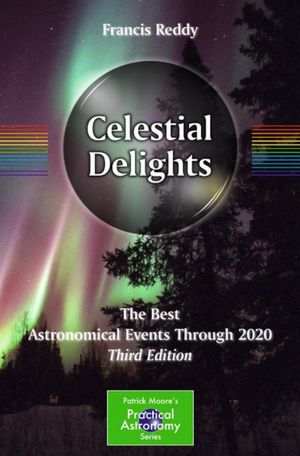 Recently, we announced an invitation for anyone who would like to review space books for Universe Today. We here at Universe Today were overwhelmed by the huge response from readers all over the world. And now, we're so glad to feature the first book review submitted by Dave DeHetre, an astrophotography enthusiast from Kansas. Here's Dave's review of the book, "Celestial Delights: The Best Astronomical Events Through 2020 by Francis Reddy."
In 2001 or 2002, I can't remember which, I saw on the TV news that there was going to be a meteor shower that night (the Leonids). At some time late into the night, I found myself unable to sleep, and figured I'd go take a look. I walked barefoot onto my front lawn and looked up to a chaos of movement. There were so many meteors that they almost blended into a static noise pattern. There were dozens of smaller, and several larger streaks across the sky at any given moment. I was impressed. I went inside and woke up my wife, and both of us stood on the lawn, heads craned back, mouths open in awe until impending hypothermia chased us back inside.
That was the first time I'd seen a meteor shower, and since then, I've thought that was what all meteor showers were like. Recently, I've developed an interest in astrophotography, and at each opportunity, I've gone out to try to capture something like what I saw that first night, only to be disappointed. I figured I was just having bad luck, but it turns out that event I saw a decade ago was something of a record breaker. I only found this out while reading the book "Celestial Delights," by Francis Reddy.
The back cover copy for Celestial Delights leads with: '…TV Guide for the sky', and that's a very apt description. The book provides a 'listing' for everything that's going to happen in the sky during the decade from 2011 to 2020, giving you a reference to when the sights you want to see are happening, providing plenty of detail about each event, and also introducing you to things you hadn't considered before.
The book is organized by broad topic, ordered by how commonplace the event is. Starting with the sky itself, then to the Moon, then the inner planets, eclipses, Mars, the gas giants, constellations and key stars, nebulae, galaxies, meteors, and finishing with 'Unpredictable Events' (aurora, comets, novae, and supernovae). Having the events grouped this way allows for there to be plenty of background and history of each type of event included, as well as explanations of the underlying principles and mechanics involved. It's not a book meant to be read cover to cover necessarily, though it is engaging enough that you might.
Topics are covered extensively, stopping just short of the physics and mathematics detail of a textbook. Even so, the style is always readable and easily understood. Each topic chapter provides a calendar of events, with highlights and points of interest. There are ample photographs and illustrations throughout the book, mostly in black and white, with color plates used to good effect on occasion.
Overall, the impression is that this is a comprehensive guide, written by someone who knows the topic well and is passionate about it. Reddy has been writing about astronomy and space science for 30 years and has published numerous books for skygazers of all ages. He is a senior science writer for Syneren Technologies Corp., and writes for the Astrophysics Science Division at NASA's Goddard Space Flight Center in Maryland. Previously he served as a senior editor at Astronomy magazine.
If you were going to buy just one book on astronomy, "Celestial Delights" would be an ideal candidate.
Click here to read more reviews or buy this book from Amazon.com.