Want to stay on top of all the space news? Follow @universetoday on Twitter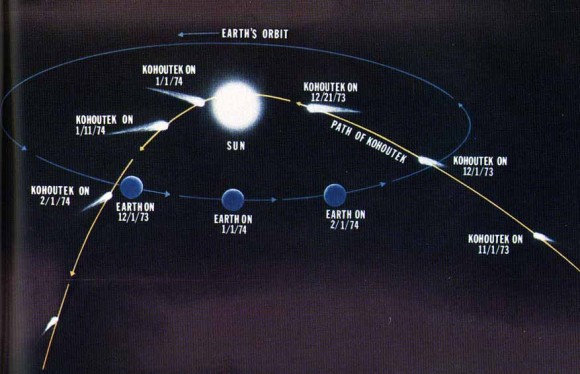 Comet Kouhoutek is a comet discovered in 1973 by astronomer Lubo Kouhoutek. The comet was first sighted on March 7. Its perihelion was observed December 28 of the same year. The Kouhoutek comet is a long period comet. This means it has a long period of orbit and it orbit is highly eccentric. The last estimated appearance of the comet before its sighting was 150,000 years ago. The comet is expected to reappear for Earth observation in 75,000 years.
Comet Kouhoutek is considered to be part of the Kuiper belt variety of comets. These are comets made from frozen volatile gasses such as methane. The comets composition is largely ice and reflects the difference of the Kuiper belt compared to the Inner Solar system asteroid belt and its counterpart the Oort cloud.
The comet was made much of in the media as it was predicted proximity to the Earth would provide one of the brightest views of a comet on record. However the comets magnitude fell far below raised expectation. The public disappointment was so great that the comet's name became a 1970s byword for a letdown. The comet's ascribed meaning became a pop culture phenomenon. It was found in music and television alike.
One of the most famous incidents was an end of world cult involving the comet. A man by the name of Eddie Ben Nelson started a cult saying that a black angel came and told him that the comet was actually a spaceship that would take a select group of 144,000 individuals to safety. The hoax was made worse by the fact he charged the people he chose for tickets. As more people bought into the con he jacked up the price on the tickets. He managed to sell over 1,000 tickets and even after the scandal was exposed on the supposed day of departure he was able to turn into celebrity. In some ways he became one of the first reality TV celebrities.
Comet Kohoutek and the hubbub surrounding its arrival shows that even in modern times, that mankind will always have a fascination with the heaven's and its mysteries. Comet Kouhoutek would not be the first and definitely not the last comet to convince people of omens and scams involving the end of the world. However it shows an interesting case of the phenomenon.
We have written many articles about Comet Kouhoutek for Universe Today. Here's an article about comets, and here are some images of comets.
If you'd like more information on comets, check out Hubblesite's News Releases about Comets, and here's a link to NASA's Solar System Exploration Guide to Comets.
We've also recorded an episode of Astronomy Cast just about Comets. Listen here, Episode 19: Comets, Our Icy Friends from the Outer Solar System.
Sources:
http://www.surroundedbyreality.com/Misc/Know/Kohoutek.asp
http://history.nasa.gov/SP-404/ch4.htm