Want to stay on top of all the space news? Follow @universetoday on Twitter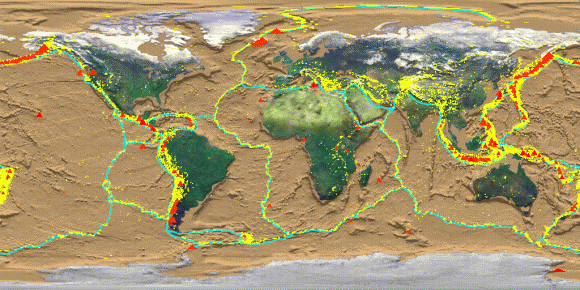 Lithospheric plates is another name for the pieces of the Earth's fractured crust. These pieces are better known as the tectonic plates. As a whole the lithosphere is the outermost part of the Earth. It comprises of the crust and the upper part of the mantle which is an elastic solid. These plates are roughly divided into two main types which are continental plates and oceanic plates. Together they are responsible for all seismic and volcanic activity on rocky planets in the process called plate tectonics.
The theory for plate tectonics states that the lithosphere is like a rigid raft that floats on top of the lower parts of the mantle. The crust is able to move on the mantle since it is broken up into different plates. Scientists are not sure why this is so. Some propose that the fractures in the crust were cause by a massive impact from space. Others say that the internal stresses from the Earth's formation as it cooled created the fractures in the crust. Either way the movement of the plates is now a major process on Earth.
The tectonic plates separate, collide, or slide past each other. The two main forces that direct these plate movements are sea spread and subduction. In sea spreading convection currents from the mantle heat up and weaken the crust above at the tectonic plate boundaries until it thins enough for magma to break through. As magma breaks through the oceanic crust is cools and rapidly hardens causing the plates to be pushed apart. Subduction is when oceanic crust is forced under continental crust back into the mantle. The reason for this is that mafic rich oceanic crust is much denser than the felsic continental crust. These two processes in plate tectonics are responsible for most volcanic and seismic activity creating mountains, volcanoes, and fault systems.
In general continental plates last longer than oceanic plates since their less dense composition makes them less prone to subduction. However, this does not stop continental plates from colliding. As a matter of fact there is evidence that over the life of planet Earth several supercontinents were created by continental plates colliding.
In the end lithospheric plates were important for creating the conditions for life on Earth. Without the process of plate tectonic the shallow seas and land that allowed for the evolution of life would not exist.
We have written many articles about the lithospheric plates for Universe Today. Here's an article about tectonic plates, and here's an article about the Eurasian plate.
If you'd like more info on lithospheric plates, check out the U.S. Geological Survey Website. And here's a link to NASA's Earth Observatory.
We've also recorded related episodes of Astronomy Cast about Plate Tectonics. Listen here, Episode 142: Plate Tectonics.
References:
http://www.uwsp.edu/geo/faculty/ritter/glossary/l_n/lithospheric_plates.html
http://www.utexas.edu/tmm/npl/mineralogy/mineral_genesis/defintectonicplates.html