Want to stay on top of all the space news? Follow @universetoday on Twitter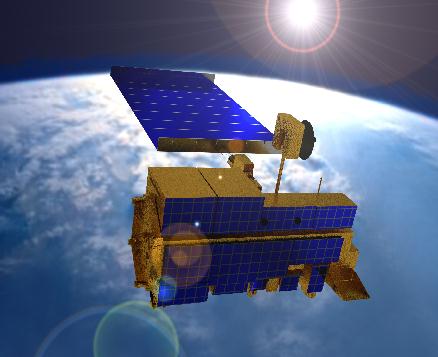 Terra is the alias for the project involving the EOS AM-1 satellite. The satellite is a NASA mission that also involved international partnerships with the Japanese and Canadian space agencies. The satellite is part of a system of artificial satellites called the Earth Observation System. The goal of these satellites along with the Terra satellite is to gather data on the Earth's surface and the changes it undergoes over 15 years. The reason is that there has not yet been a comprehensive set of data to mark change and catalouge all the major process that occur on the planet. The mission seeks to gather a long term set of data and analyze it to find patterns in these processes and find root causes.
The Terra Satetllite was the most recent satellite and was launched in 2000 for its particular 15 year survey. The spacecraft carries 5 instruments to help gather data on the Earth's surface. The first instrument is ASTER the Advanced Spaceborne Thermal Emission and Reflecction Radiometer. The instrument acts as the zoom feature for the other insruments and gathers 8 minutes of data per orbit. It is the result of collaboration between the United States and Japan.
The second instrument on the Terra satellite is the CERES module. The CERES model acronym stands for Clouds and the Earth's Radiant Energy System. This instrument observes the Earth's total radiation budget as well as how clouds absorb and transmit radiant energy for the ground surface of the Earth. The module also shares duteis with teh MISR the Multi-angle Imaging Spectro-Radiometer. This third module helpds to gather data on how sunlight is scattered in the Earth's atmosphere. This the amount and types of particles in the atmosphere can be analyzed in order to see how much man made products affect the atmosphere and climate.
The fourth instrument on the Terra satellite is the MODIS also known as the Moderate-resolution imaging Spectroradiometer. Unlike the other instruments it takes wide angle views of the Earth's surface take pictures of the entire globe in 2 to 3 days. This is used to observed the amount cloud cover as well as large scale changes in climate. The last instrument is the MOPITT. This tool measures pollution int the troposphere.
We have written many articles about the Terra satellite for Universe Today. Here are some satellite views of the Earth, and here's an article about artificial satellites.
If you'd like more info on the Terra satellite, check out the official website of NASA Terra satellite. Also, here's the mission page of Terra.
We've also recorded an episode of Astronomy Cast all about planet Earth. Listen here, Episode 51: Earth.
Reference:
NASA Terra Satellite