Want to stay on top of all the space news? Follow @universetoday on Twitter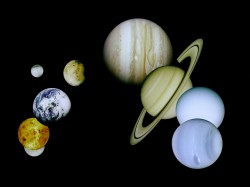 As you learn more about astronomy you will be finding yourself needing to know all about astronomical units. These units were developed to help the huge distances in space be more easily envisioned and handled. Light travels 9.460 trillion kilometers in one year. Can you imagine saying that the star Proxima Centauri is 39.732 trillion kilometers away? The numbers are impossible to imagine and put into perspective, but, knowing the length of a light year, you can say it is only 4.2 light years away. A much more reasonable answer.
We decided to assemble some links to articles all about astronomical units here on Universe Today. We know that it can be hard to make yourself jump into a group of links without a clue as to what you might find, so here are are a few fun facts about astronomical units to pique your interest.
A single astronomical unit(AU) is equal to the distance from Earth to the Sun. Do you know how many kilometers that is? Proxima Centauri is 265,612 AU from the Earth.
The term parsec is a combination of two other astronomical terms: parallax and arcsecond.
You have heard of a light year, parsecs, and AU, but do you know what a smoot is? It is definitely the shortest astronomical unit of measruement.
You will find more information on these facts in the links below as well as hundreds of other interesting facts all about astronomical units. We hope that you find everything that you need and , as always, enjoy your research.
Distance of a Light Year
One Lightyear in Smoots