Want to stay on top of all the space news? Follow @universetoday on Twitter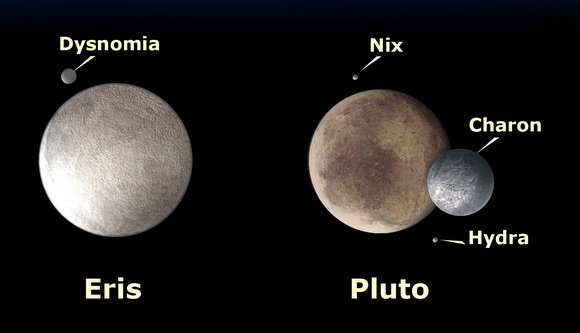 The vast majority of people were unaware that there was a dwarf planet classification until Pluto was demoted into the category. Now that the average person is aware of the classification, they think that Pluto is the only one. If you have done any research on the topic, you know differently. Of the five officially recognized dwarf planets, Pluto is not even the largest. There are hundreds of interesting facts all about dwarf planets that can be found in the links below. Here at Universe Today, we know that digging into a page full of links can be a bit of a boring proposal. To help here are a few of the facts that you can find more information about in the links.
The dwarf planet classification is only 5 years old(2011) and may be reconsidered in the future based on scientific discoveries.
The main difference between a planet and a dwarf planet is that it shares its orbit with large celestial bodies.
While there are five recognized dwarf planets, there are several others being considered for the tag.
Some of the dwarf planets can be seen with binoculars on a clear, dark night.
There are many other facts all about dwarf planets that you will find in the links on this page. We hope that you find all of the information that you are looking for and, as always, enjoy your research.