Want to stay on top of all the space news? Follow @universetoday on Twitter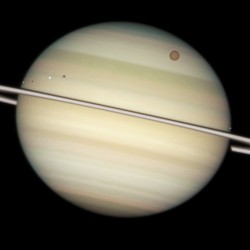 Saturn is known for its rings, but did you know that the moons of Saturn account for 1/3 of all the moons in our solar system? Many of these moons were not known to science until the last decade. Some haven't even been named. Trying to assimilate all of the information about Saturn's moons can be difficult if it is not easy to find. To help you with that, we have assembled links to all of the articles about those moons that we have here on Universe Today. Diving into a set of links can be daunting, so to help pique your interest, here are a few interesting facts about the moons of Saturn.
Saturn has 60 moons in total, but do you know which planet has more?
Some of Saturn's moons orbit more than ten million kilometers from the planet's center. Given these known distances, some scientist believe that more moons exist and are waiting to be discovered.
Saturn has a moon that looks like the Death Star of Star Wars fame.
Some of the moons of Saturn are thought to be nothing more than ice. Perhaps trapped comets?
The moons of Saturn will continue to fascinate scientists and amateur astronomers for decades. Little is known about the current list of moons and there may be more yet to be discovered. It is possible for a scientist in the future to make an entire career based on these moons. We hope that you are able to find all of the information that you need in the links below and , as always, enjoy your research.
Saturn's Moon Dione
Saturn's Moon Rhea
Saturn's Moon Enceladus
Saturn's Moon Iapetus
Iapetus
Xanadu
Titan Moon
Janus
Mimas
Epimetheus
Telesto
Phoebe