Want to stay on top of all the space news? Follow @universetoday on Twitter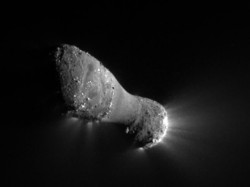 When you say comet, most think about Haley's. A few more might conjure up the name Hale-Bopp. There are many other comets that do not gain notoriety world-wide for one reason or another. The very essence of a comet is fascinating if you take the time to study it. To help you with your research, we have assembled a list of links to articles about comets. Knowing that many people do not want to read through a long list of articles without knowing what they may find in them, here are a few facts that you will find more information about in these articles.
You have heard of the Green Lantern, but have you ever heard of a green comet? The color of these comets comes from a poisonous gas that is part of their make up.
Comets and other space debris hit the Earth's atmosphere on a regular, predictable schedule. Did you know that NASA has crashed a probe onto the surface of one.
Some comets may take thousand or even millions of years to pass close enough to Earth to be observed.
Comets have been coveted discoveries and misunderstood centerpieces for pagan celebrations. While their make up is well understood today, no scientist can estimate their numbers. Some even believe that one was responsible for mass destruction in Siberia in the early part of the last century. Hopefully, you will find all of the information that you need in the links below and , as always, enjoy your research.
Comet Impact
How are Comets Formed?
Comet Hale Bopp
Green Comet
Comet Hitting Earth
Comet Wild 2