Want to stay on top of all the space news? Follow @universetoday on Twitter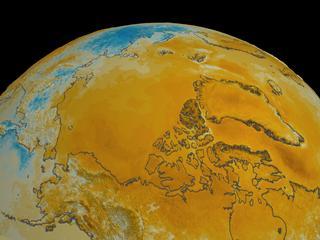 The answer to what is temperature that it is a way to state the notions of hot and cold. It is also the measure of the average kinetic energy of particles in a substance. Temperature is measured with thermometers that can be calibrated to a variety of scales. A large portion of the world uses the Celsius scale for most temperature measurements. The Kelvin scale is used for scientific or engineering purposes. Only a few countries, mainly the United States, use the Fahrenheit scale. The main difference between these scales is their point of origin.
Temperature is the result of the motion of particles. Temperature increases as the energy of this motion increases. The motion may be the translational motion of the particle, or the internal energy of the particle due to molecular vibration or the excitation of the electron energy level. Thermal collisions by atoms with small particles suspended in fluid produce Brownian motion that can be seen with an ordinary microscope. The thermal motions of atoms are very fast, so temperatures close to absolute zero temperature are required to observe them.
Many physical properties of materials, including phase(solid, liquid, gas), density, solubility, vapor pressure, and electrical conductivity completely depend on temperature. Temperature also plays a major role in determining the rate and extent of chemical reactions. This is one reason why the human body has several methods of maintaining its temperature at 310 K(98.9F). Temperatures only a few degrees higher can result in harmful consequences. Temperature also controls the type and quantity of thermal radiation emitted from a surface. All you have to do is look at a light bulb in your home. The tungsten filament is heated with electricity until it gives off light.
Loosely, thermodynamics is the study of how temperature affects its surroundings and how it can be used to create 'work'. It is the subject of the relation of heat to forces acting between contiguous parts of bodies and the relation of heat to electrical agency. It started out as a need to improve the efficiency of steam engines.
You can feel what is temperature every time you put your hand on a surface. Science has been studying its properties for decades in order to get more work from smaller engines. Temperature has effects in every field of science.
We have written many articles about temperature for Universe Today. Here's an article about the temperature of Earth, and here's an article about the temperature of the Sun.
If you'd like more info on the Temperature, check out an article about the Accurate Thermometers in Space, and here's a link to the article about the Changes in the Temperature of the Earth.
We've also recorded an episode of Astronomy Cast all about Spacesuits. Listen here, Episode 121: Spacesuits.