Want to stay on top of all the space news? Follow @universetoday on Twitter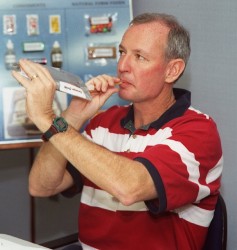 Eating in low gravity presents some interesting challenges. Beyond getting the astronaut food into your mouth, there was the trouble with how do you get the food to last throughout the trip. NASA overcame all of those issues and has managed to make the meals more than an unappetizing paste.
In the early days of the space program, during the Apollo program, the food that astronauts had to eat a dehydrated, paste-like food that sort of made you want to go hungry until you got back to Earth. The early astronauts had to suck this nasty paste up through straws. Astronauts on today's Space Shuttle flights have most of the same food available to them in space as they do here on Earth.
In the low-gravity environment, food and drinks would simply float away if they weren't handled correctly. To combat this problem, food is carefully contained and drinks are packaged as dehydrated powders. The astronauts add water to beverages through a special tube before drinking. All foods are either partially or completely dehydrated to prevent them from spoiling. Meats are exposed to radiation before they are put aboard the shuttle, so that they have a longer shelf life.
Astronauts eat three meals a day plus snacks, just like on Earth. Meals are organized by the order in which astronauts are going to eat them, and stored in locker trays held by a net so they won't float away. At meal times, astronauts go into the galley area located in the shuttle's mid-deck. They add water to freeze-dried foods and dehydrated drinks from a rehydration station that dispenses hot or cold water. Food is heated in a forced-air convection oven that's kept between 160 and 170°F. It takes about 20 to 30 minutes to rehydrate and heat an average meal. Individual food containers have to be atached to a food tray with fabric fasteners. The tray itself connects either to the wall or to the astronauts' laps. Astronauts open the food packages with scissors and eat with a knife, fork and spoon.
Each shuttle packs enough food to last the length of the mission, and then some. A Safe Haven food system provides every astronaut with an extra three weeks' worth of food(2,000 extra calories a day in an average meal) just in case there is an emergency. These emergency foods are dehydrated for a longer shelf life.
Being in space can put a damper on appetites. Food aromas waft away before they make it to the nose because of the lack of gravity. No smell, lowers the taste quality of food. Fluids tend to rise to the top half of astronauts' bodies, so the crew members have a constant stuffy nose. Salt, pepper, ketchup, mustard, and mayonnaise are available, but the condiments are different from their terrestrial counterparts. Salt and pepper have to be suspended in liquid so the particles don't float away. Astronaut food is fairly normal, but the food has to be eaten with the aid of several contraptions and packaging tricks.
There are a few places on the internet where you can buy astronaut food. You can buy some of these products on Amazon and Ebay, of course, but here are a few other reliable site to buy the foods of your choice.:
Source: NASA Spaceflight