Want to stay on top of all the space news? Follow @universetoday on Twitter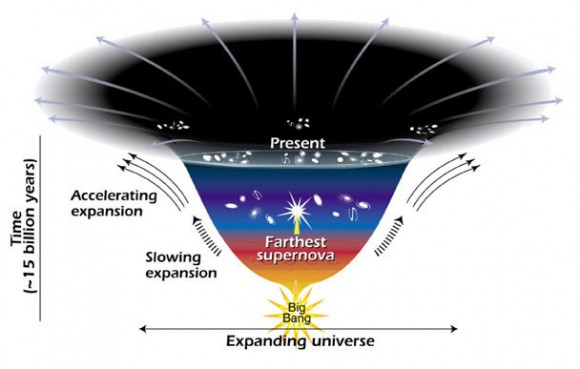 One of the most intriguing things in cosmology is empty space – that apparent spatial emptiness that didn't obviously exist before the Big Bang. Although classical physics would have it that energy may neither be created or destroyed, it's certainly the case that empty space is being created in abundance as the universe expands.
This empty space is something you can move through, although moving is something you can only do over time, so we should really talk about it being space-time. There was no time before the Big Bang expansion also created space – and from there the two have always gone together as a package.
From a quantum perspective, a vacuum is a zero point field – essentially the baseline or ground state of a quantum mechanical physical system. Einstein and Stern established the idea of zero point energy, described as a residual energy that might remain in a system even at absolute zero. Bolstering this notion was the finding that vacuum energy is measurable in a laboratory, at least at nano-scales (e.g. see the Casimir effect).
However, trying to apply this notion at cosmic scales doesn't work so well. Quantum field theory predicts a zero point energy density 120 orders of magnitude higher than what can be observed. This outcome is known as the vacuum catastrophe, terminology that harks back to the classical ultraviolet catastrophe – which predicted that blackbody radiation should approach infinite energies at short wavelengths. Max Planck's solution to that formed the basis of quantum physics.
In cosmology, the vacuum catastrophe is reconsidered as the cosmological constant problem, since if the cosmological constant is equivalent to the universe's vacuum energy then it should be the same as the figure predicted by quantum field theory, rather than the much smaller figure it needs to be to make Einstein field equations fit observational data.
The anthropic principle can be invoked in support of the quantum theory by proposing that vacuum energy varies locally, while at a larger scale the overall energy density still fits the theory. So, where 'locally' means the scale of our observable universe, we live in a local downward fluctuation which is amenable to galaxy formation and the evolution of intelligent life. So we look out from our small corner of the universe and naively assume there's something wrong with quantum theory.
String theory apparently raises the possibility of repeated cycles of high energy/mass density Big Bangs and Big Crunches which have run down a primordial cosmological constant to the weaker level that we observe in this current universe.
On the other hand, someone working with Einstein field equations might point out that Einstein put the cosmological constant in his formulae for the purpose of avoiding a universe that expanded (or contracted), as though expansion is an innate property of space-time . You can run Einstein field equations for a hypothetical universe devoid of any mass or energy and it still expands.
So, empty space is a mystery and all this current talk about dark energy implies we know more about it than we really do. Sure dark energy is dark, but it seems a bit unlikely to be energy unless it's an energy that is somehow constrained by some other undetectable phenomenon. We should just call dark energy Huh? (for Hold Understanding Here) while we get more data.