Want to stay on top of all the space news? Follow @universetoday on Twitter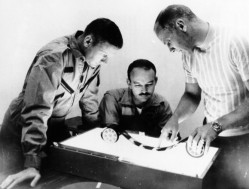 The first moon landing is usually associated with Apollo 11, Neil Armstrong's iconic announcement: "That's one small step for man, one giant leap for mankind.", and an image of a footprint on the lunar soil. But did you know that they weren't the first one to get there?
At least, that's if you consider unmanned lunar landings as lunar landings. If so, then the first Moon landing was definitely made by Luna 2, a spacecraft sent by the now separated Soviet Union in 1959. It was the second spacecraft sent by the Soviets for the specific purpose of reaching the lunar surface. The first one was Luna 1.
Like Luna 1, Luna 2 was spherical in shape and had spike-like protrusions (actually antennae). It was equipped with scintillation and geiger counters, a magnetometer, Cherenkov detectors, as well micrometeorite detectors. The Luna 1 might have made it had there not been a malfunction in the ground-based control system that made the spacecraft miss the Moon and only perform a fly-by instead.
Since Luna 2 did not have any propulsion system, most scientists don't consider it a landing. A more appropriate term might be the first man-made Moon impact. So if you all agree now, Apollo 11 certainly made the first Moon landing.
Now how about unmanned lunar landings? That is, those that did have propulsion systems? Even if we include those, the Apollo mission still arrived on the Moon first.
The first unmanned lunar landing (with a propulsion system) was made once again by the Soviets. The Luna 16 made performed the descent and landing on September 20, 1970 after being launched from Earth on September 12.
It lifted-off from the Moon the following day, on Spetember 21, after collecting Moon rocks. It however left a device, known as the lower stage of the lander, to gather more temperature and radiation data and transmit the information back to Earth.
The Russians are slated to send the Luna-Glob 1 mission to the Moon in 2012. It is supposed to be the first of a series of missions to be launched with the intention of putting up the first fully robotic lunar base on or after 2015. If plans carry out, cosmonauts will follow and establish a manned lunar base from 2027-2032.
Still think the Apollo missions, particularly the lunar landings, were part of an elaborate hoax? Click on this link to read what the Japanese SELENE Lunar Mission discovered.
NASA has a huge collection of reliable links related to the Apollo missions.
Episodes about the moon from Astronomy Cast. Lend us your ears!
Shooting Lasers at the Moon and Losing Contact with Rovers
The Moon Part I