Want to stay on top of all the space news? Follow @universetoday on Twitter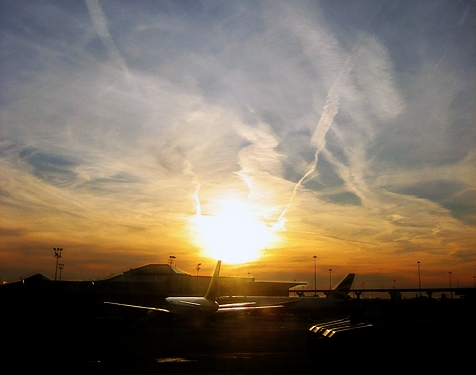 When you ask the question, "What causes global warming?", the answer will depend on the person providing the answer.
Some will say it is caused by greenhouse gases. Others will say it is the changes in sunlight exposure, also known as solar variations. There are also others who will tell you that there are no causes, it is just that way. Then there are others who will tell you that the question is useless because no global warming is happening at all.
Let's filter out the last two because they don't answer our question anyway.
If we assume that global warming is happening, then either one of these two possible major factors must be causing it: too much greenhouse gases in the atmosphere or solar variations. A combination of the two might also be a factor but let's just tackle them independently.
First, let's talk about the most accepted theory: that global warming is caused by an excessive amount of greenhouse gases in the atmosphere. Greenhouse gases are basically gases that absorb and re-emit infrared radiation (better known as heat). This radiation can come directly from the Sun, from those rays that pass through but get bounced off the Earth's surface, or from heat emitted by the Earth itself.
Supposedly, if the greenhouse gases are just enough, a fraction of the infrared radiation are simply allowed to pass through the atmosphere and released onto outer space. But if there is too much of these gases, then they can act as a shield, preventing the outbound infrared rays from passing through. These rays stay and warm the Earth's surface. It this happens for a long time, global warming can ensue.
The second factor, solar variations, has something to do with solar activity which is sometimes combined with other recurring movements of the Earth (such as Milankovitch cycles). The Sun actually experiences a set of cyclical events that influence the amount of heat it produces.
There are times when solar activity is so minimal that temperatures can drop here on Earth. One instance wherein solar activity is suspected to have had great influence is the Maunder Minimum, a period wherein sunspots were observed to be very rare. This coincided with the Little Ice Age, a period wherein Europe and Northern America were under a very cold spell.
Some scientists have data that show the rise and fall of solar activity affecting the temperatures here on Earth on a global scale.
As people continue to seek the real answer to the question, "What causes global warming?", one thing is certain – that global warming is upon us right now.
You can read more about the Milankovitch cycle here in Universe Today. Here are the links:
*Solar Variability Most Likely Not the Cause of Global Warming
*Researchers Say Sun Cycle Alters Earth's Climate
There's more about it at USGS and NASA. Here are a couple of sources there:
*The Sun and the Climate (a pdf file)
*Milutin Milankovitch
Here are two episodes at Astronomy Cast that you might want to check out as well:
*The Sun, Spots and All
*Distance in Space, Changing Earth's Orbit, and Different Sized Stars
Sources:
http://environment.nationalgeographic.com/environment/global-warming/gw-causes
http://www.wwf.org.au/ourwork/climatechange/causesofglobalwarming/
http://en.wikipedia.org/wiki/Global_warming
http://solar-center.stanford.edu/sun-on-earth/glob-warm.html