Want to stay on top of all the space news? Follow @universetoday on Twitter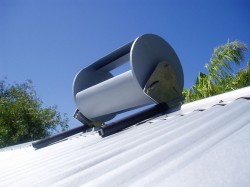 The micro wind turbine is an cost effective and environmentally friendly way to provide energy for your home. One of the biggest concerns in the 21st century is discovering economically viable sources of clean energy. Clean energy cuts down the dependence on foreign oil and also provides a reliable source of power that does not cause harmful pollution. Wind Turbines have long been considered to be one of the best sources of clean energy. However most of us only know about the large scale wind farms owned by utility companies. These have the downside of not being wide spread and the current power grids in the United States don't allow for routing of power over great distances. So short of a full scale lobbying effort to get a wind farm built in your area, the best solution is a micro wind turbine.
These turbines are much smaller and can be used for residential purposes. The best part is that the right kind of wind turbine can power your home independently or reduce your utility bill by as much as 90 percent. However, there are some important things you need to know. about Micro wind turbines.
First, micro wind turbines need height to work. This means that in order for your turbine to work properly it will need to have a height of at least 80 feet. This can be a barrier for someone who lives on a small lot like in a suburb or subdivision. The best candidates would be homeowners who have at least an acre of land and whose local laws allow for building a wind turbine on private property.
Second, know how much power the wind turbine produces. When you buy a wind turbine you should know how much energy in Kilowatt Hours it produces. Remember, this is not the same as Kilowatts. The average home requires 9,400 kilowatt-hours. So a turbine with a rating of 5 to 10 kilowatts should be purchased if you want to get a turbine that makes a meaningful contribution to meeting your energy needs.
Finally, look at pricing and see if it is something you can afford. At best, the cheapest micro wind turbine can cost $600 but if you want to get one that produces a decent amount of power you will need one that cost around $6,000. Fortunately this is still cheaper than installing a solar module and as an alternative energy source you should qualify for government subsidies and other programs that can cut the costs of purchase.
Micro wind turbines can be a great way to save money on your electric, do something for the environment, and even add value to your home. Make sure to do research in order to find the turbine that will best fit your energy needs.
If you enjoyed this article there are several others on Universe Today that you will like. There is a great article on how wind power works. There is also an interesting article on wind power from the ocean.
There are also some great resources for more information. One is the American Wind Energy Association. The web site has a lot info on buying wind turbines and even has links to dealers. You can also check out the U.S. Department of Energy website.
You can also listen to Astronomy Cast. Episode 151 talks about Atmospheres.
Sources:
http://www.reuk.co.uk/Micro-Wind-Turbines.htm
http://en.wikipedia.org/wiki/Small_wind_turbine