Want to stay on top of all the space news? Follow @universetoday on Twitter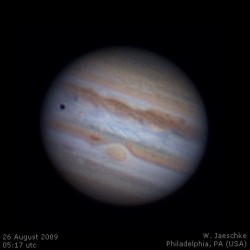 Jupiter is the fifth planet of our solar system. It is also the largest and is part of the unique subset of planets called Gas giants. Jupiter is named after the Roman God of Thunder and King of the Gods. Jupiter is also one of the planets of the outer Solar System and is separated from Mars, the outermost Inner planet by the Asteroid Belt, a region of asteroids that separates the inner planets from the outer planets.
With a diameter of 142,984 kilometers it is the largest planet in the Solar system. It basically 11 times larger than Earth. One of the reasons is that it is largely composed of gas. Scientists guess that Jupiter was on its way to becoming a star before it failed to complete the process, lacking the mass to do so. However, Jupiter is still the most massive object in the Solar System besides the sun. It has a mass that is 318 times great than that of Earth.
Jupiter's Orbit and rotation are also interesting when compared to Earth's. It takes Jupiter 12 Earth years to orbit the sun, but it has one of the fastest rotations in the Solar System with a sidereal day that last just over 9 hours.
As Gas giant Jupiter is most composed of gases with Hydrogen being the largest portion of its atmosphere. However it is suspected that like others planets it has a heavy metal core. The Atmosphere is very turbulent and one of Jupiter's most distinctive features is its Red Spot which is a storm thought to have been going on for many centuries. It is estimated that this storm is the most powerful in the Solar with winds at speed more than 265 km per hour.
Jupiter also has 16 moons. This is of much interest to scientist because recent exploration by probes suggest that some of these moons could support life or be colonized in the future by humans. However there are some challenges for future astronauts since Jupiter emits a deadly amount of radiation several kilometers from its surface.
If you want to learn more about Jupiter there are several great articles on Universe Today. There is a great article on facts on Jupiter. There is also another great general article about Jupiter.
You can also find great resources online. One is the Jupiter page one nasa.gov. You can also check out ucar.edu.

You should also listen to Astronomy Cast. Episode 57 talks about Jupiter's moons.