Want to stay on top of all the space news? Follow @universetoday on Twitter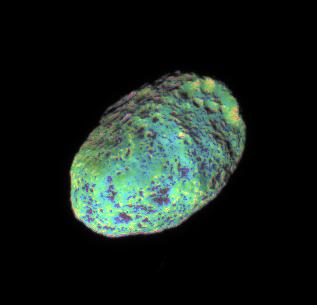 Of all the asteroids and moons I've written and researched about, not one comes close to the strangeness of Hyperion.
Hyperion, which is also known as Saturn VII, is a moon that orbits Saturn (of course). One glance at it, and you'll immediately notice its weird sponge-like form. It is immensely cratered and, based on the exterior alone, one can surmise that its inner sections may be filled with caverns of empty space.
Although it is the second-to-the-largest irregularly shaped celestial object in the Solar System, it is has a very low mass in relation to its volume. This subsequently means, it has a very low density. Its mean density is estimated to be at 0.5667 g/cm3, making it less dense than water.
Its dimensions are approximately 328 km x 260 km x 214 km. It is much smaller than the Moon, which has a mean radius of about 1,737 km.
Aside from being very porous, another reason why Hyperion may have a very low density is the possible large amount of water ice making up its entire composition.
What scientists are really curious about is the dark material that lies at the bottom of the craters. They believe it is this dark material that gives Hyperion a low albedo. Albedo is just a measurement of a body's ability to reflect light from external sources.
In most cases, the source is the Sun. The albedo values range from 0 to 1, with 0 being the darkest and 1, the brightest. Hyperion's albedo is only 0.2 – 0.3.
Most of the images gathered of Hyperion comes from the Cassini orbiter, a robotic spacecraft dedicated to studying Saturn and its neighborhood. Cassini's flyby of Hyperion on September 25, 2005 revealed more of the strangeness of this natural satellite.
Hyperion has a rather chaotic rotation, with its axis of rotation wobbling about unpredictably. This behavior is different from all the other known moons in the Solar System.
The name Hyperion, which is taken from the Greek Titan god of watchfulness and observation, is consistent with most of the well-known natural satellites of Saturn. Many of Saturn's relatively popular satellites are named from Titans. This naming scheme was suggested by John Herschel in his publication in 1874 entitled: Results of Astronomical Observations Made at the Cape of Good Hope.
Here are some articles from Universe Today:
Rough and Tumble Hyperion
Spinning Hyperion
There's more from NASA:
Hyperion's Unusual Craters
APOD of Hyperion
Tired eyes? Let your ears help you learn for a change. Here are some episodes fromAstronomy Cast that just might suit your taste:
Multiple Big Bangs, Satellite Collisions and the Size of the Universe
The US Space Shuttle
Reference:
NASA