Want to stay on top of all the space news? Follow @universetoday on Twitter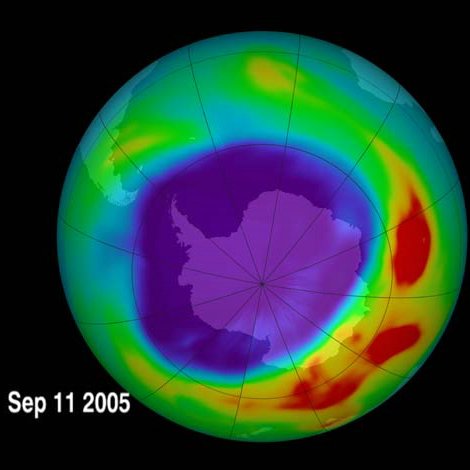 Due to the cancer-causing risks involved with prolonged exposure to ultraviolet rays, the ozone layer depletion poses a serious threat to humans. The depletion of ozone layer refers to deteriorating concentration of O3 in the stratosphere, especially above the polar regions.
The stratosphere is the second-to-the-lowest principal layer in
the atmosphere
. That is, starting from the bottom of the atmosphere, the principal layers are the troposphere, stratosphere, mesosphere, thermosphere, and exosphere.
The ozone layer is a sublayer in the stratosphere, which spans between 10 km and 50 km above sea level, where the concentration of ozone (O3) is highest. Temperature in the stratosphere is noticeably high. The heat that raises the temperature there comes from the interaction between ultraviolet rays and ozone molecules.
When UV strikes an ozone molecule, the molecule separates into O2 and an atomic oxygen. In turn, the UV electromagnetic wave loses energy and is retransmitted in the form of heat. This is the heat that warms the stratosphere.
Since the O2 and atomic oxygen easily combine with other atomic oxygens and O2 (respectively) also found in the ozone layer to form O3, this process leaves the ozone layer practically unaltered. Thus, the ozone layer serves as a shield that protects our planet from the harmful ultraviolet rays.
Along comes CFCs or chlorfluorocarbons. These are substances that were commonly used in air conditioning units, refrigerators, and aerosol sprays. CFCs are also easily destroyed by UV rays. Unfortunately, these CFCs contain radicals that can also rapidly destroy large amounts of ozone.
For a long time in the past, these CFCs were released into the atmosphere and caused vast destruction of the ozone layer. The worst ozone layer depletion rates can be found in the poles. This largely degraded portion known as the hole in the ozone layer.
This hole was once observed to be expanding. Now, the larger that hole gets, the greater the amount of UV rays that can easily penetrate. Remember that UV rays can cause cancer. Therefore, it is important to find a solution to the ozone layer depletion problem.
Developed countries like the United States have already signed a treaty to phase out CFC production. The treaty, known as the Montreal Protocol is a testimony of what humans can achieve when they put their minds and strengths together to face a common threat.
Where in the atmosphere is the ozone layer? You might want to read more about the atmosphere layers to find out. Remember that the ozone layer is found in the stratosphere. Want to learn more about ultraviolet light instead, we've got an article about that as well here in Universe Today.
There are also interesting stories from NASA and PhysicsWorld:
Ultraviolet Waves
Ultraviolet Light to Squeeze In the Data
Here are two episodes at Astronomy Cast that you might want to check out as well:
Ultraviolet Astronomy
Optical Astronomy