Want to stay on top of all the space news? Follow @universetoday on Twitter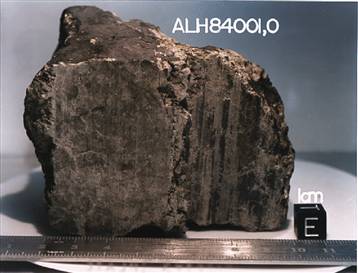 ALH84001 or Allan Hills 84001 is a controversial piece of rock – actually a meteorite – that was found in Allan Hills, Antarctica back in 1984. It gained prominence only a little later, in 1996, when scientists studying the rock claimed it might contain proof that certain organisms lived in Mars.
The theory stemmed from the results of an SEM (scanning electron microscope) probe on ALH84001, which revealed what appeared to be fossils of bacteria-like formations on the meteorite.
Skeptics observed that the structures were too small to even hold RNA (ribonucleic acid), a chain of nucleotides like the DNA but usually composed of single strands. RNAs are important biological structures. Also, the possibility of contamination in the Antarctic also existed.
Alright, I might be jumping ahead of you here. You might be wondering how supporters of the controversial theory arrived at the idea that ALH84001 came from Mars in the first place and why it is more interesting to imagine it as having come from Mars than other places in the Universe.
First, it is more likely that the rock came from a source within the Solar System, or at least somewhere really close to Earth. Theories of life on Mars still flourish. Hence, due to Mars' proximity, it would be more possible that ALH84001 came from there.
Incidentally, there are indications that ALH84001 did come from the red planet. An extensive analysis of data from the Mars Global Surveyor and Mars Odyssey by researchers from the University of Hawaii at Manoa showed that Eos Chasma in the Valles Marineris canyon in Mars was a highly likely source.
So how did ALH84001 reach our planet?
In the younger years of the Solar System, billions of years ago, a lot of collisions were going on. Meteoroids and asteroids impacted the celestial bodies, including Earth, the Moon, and Mars. You'll see evidence of this by just peering through your telescope and aiming it at the surface of the Moon.
Anyway, one of these asteroids impacted Mars and formed ALH84001. Although ALH84001 remained on Mars during the impact, a much later impact (around 15 million years ago) ejected it from the surface. After drifting in space, it finally got caught by the Earth's gravitational field and crash landed in the Antarctic about 13,000 years ago.
Sophisticated dating analysis are able to support this story. As of this writing, the ALH84001 controversy continues.
New findings on the Allan Hills meteorite point to microbial life. Read about that story here in Universe Today. If you've become intrigued by asteroids after reading this article, you might want to read about one that's going to be visible to the naked eye on Feb 17, 2010.
Prefer the smaller meteoroids over asteroids? Here are a couple of interesting articles from NASA:
The Leonid Meteor Shower
The Perseid's are coming!
Astronomy Cast has the following related episodes:
Meteor Showers. Yes, the sky is falling.
Getting Started in Amateur Astronomy
Source: NASA