Want to stay on top of all the space news? Follow @universetoday on Twitter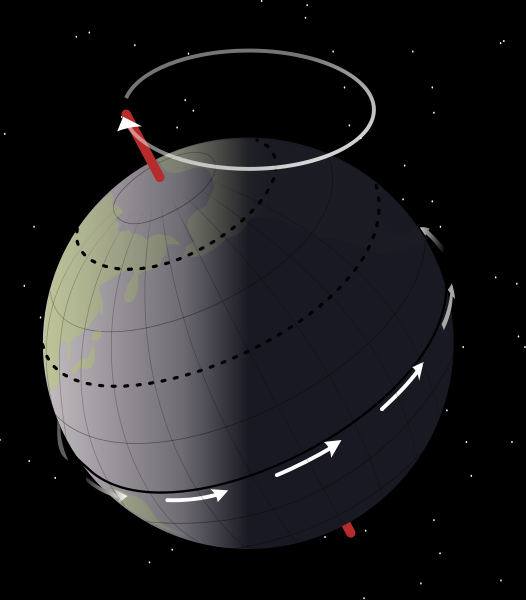 Equinoxes do not only occur here on Earth. Other planets with substantial tilts also have them.
If you're not familiar with equinoxes, they are times when the Sun is directly overhead an Earth-bound observer standing anywhere on the equator. Only two equinoxes can occur in one one year. Therefore, there are only two days in a year when the Sun can be found directly above an equator-dwelling observer.
How does this happen? Well, when a tilting planet orbits around the Sun, it maintains its tilt. Although the direction and degree of tilt does change, it only does so after thousands of years so we won't consider that in this discussion.
Now, if the tilt is maintained, there will be some instances when the northern portion will be exposed to sunlight for a longer duration within a day than the southern portion. During this period, the northern portion will naturally have longer days.
As the planet continues to orbit, the southern portion will gradually have longer durations of sunlight. Eventually, it will then be the southerners turn to have longer days. Midway between these two instances, the orientation of the Sun, the Earth, and its tilt will be in such a way that the direction of the Earth's tilt will be exactly perpendicular to an imaginary line joining the centers of the two celestial bodies.
These events, which occur in two places on the planet's orbital path, are called equinoxes.
Because of its rings, Saturn has the most significant pair of equinoxes. During an equinox on Saturn, its rings face the Sun edge-on. Thus, when one tries to view Saturn from Earth, he won't be able to see the rings as depicted on most images. Instead, he'll see them as a thin line cutting the planet in half.
Another planet which, due to its axial tilt, may experience equinoxes in the same way as here on Earth is Mars. Mars' 25.19-degree axial tilt is almost equal to Earth's, which is at 23.5 degrees. Because of this, many scientists believe that Mars goes through the same kinds of seasons as those here on Earth.
This explains why some people think that life may have or continues to exist in the red planet. Well, whether or not life may have or continues to exist there, the presence of seasons may very well be something to look into in light of possible colonizations in space.
The opposite of equinoxes are solstices. Learn more about solstices here in Universe Today. Here are some articles to help you along the way:
Shortest Day of the Year
Summer Solstice
More information can be found at NASA:
Seasons of the Year
The Sun at Solstice
Check out this podcast at Astronomy Cast: