Want to stay on top of all the space news? Follow @universetoday on Twitter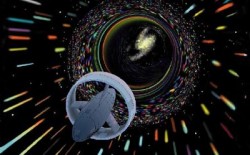 How will we travel in space in the future? This is a question that we have been asking ourselves for decades. However we have had to rethink what is possible depending on the emergence of new technologies or the realization of real limitations. So what is being done now to advance space travel in the 21st century and what are the new concepts that can advance space travel in the decades and centuries beyond?
To start with we have to look at immediate trends in space travel. At the moment we can escape the Earth's atmosphere and go as far as the moon. When this feat was first achieved in the sixties NASA was thinking that it would be just a short time before they could actually send men to mars. However this never materialized due to budget concerns. The main goal right now is replacing the space shuttle and returning to the moon or going to Mars.
The space shuttles are now being replace in lieu of more effective and reusable space transport. Like the shuttle it would be used for earth orbit missions but would have enough versatility to also be used for long term space missions like one to Mars. The new module is the Orion CEV. This capsule is based on a blend of technologies from the Apollo mission and the space shuttle program. NASA has contracted the design and manufacture to Lockheed Martin.
The other major trend is the commercialization of space. For more than 40 years space travel has been exclusively dominated by national governments. The problem is that a cheaper method of getting into space has not emerged. This has started to change as private entrepreneurs are starting to invest in private space craft and looking to expand access to space to the masses. The venture that is furthest along is Virgin Galatica. This is a venture that has managed to make a private craft that can ecape the Earth's atmosphere. If the trend continues the following decades can see space travel become as affordable as taking a commercial airplane flight.
There are still many concepts for space travel that have not been explored yet. The first is a warp drive. You may know about this if you ever saw Star Trek. The concept basically has a craft wrapped in a bubble of space time and traveling faster than light. Another concept is a matter-antimatter engine. This would allow for more efficient and effective space travel. However the science has not yet become reality.
If you enjoyed this article there are several more that you can read on Universe Today. There is a great article about space tourism. There is another great article about warp drive and what it would take to make it work.
If you want to learn more there are some great resources online. You can check out the future space channel on howstuffworks.com. It has a series of articles you will find interesting. You can also check out the space exploration web page of bbc.co.uk.
You should also listen to Astronomy Cast. Episode 167 talks about future civilizations.
Sources:
National Geographic
How Stuff Works