Want to stay on top of all the space news? Follow @universetoday on Twitter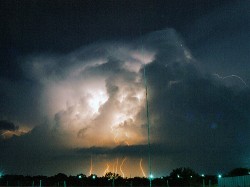 What if mankind could control the weather? We could end droughts and make more of the planet viable for farming and raising food. Normally when we talk about artificially manipulating weather we are normally in the realm of science fiction. However there are ways for us to make it rain artificially.
To understand how cloud seeding works you need to know how precipitation is formed. First rain and snow don't just drop out of the air when the air cools. Something else need to occur as rain or snow clouds reach breaking point. That something extra is the particles of dust already present in the air. The best way to explain is that when water condenses it does so on a surface. Sort of the same way that it steam in your bathroom condenses on your mirror. Instead of a mirror dust particles act as that service. As the water vapor in the air condenses in the atmosphere it reaches a critical point where they become to heavy to stay in the air. This is what causes precipitation.
Something that many people do not know is that no storm system is 100% efficient when it comes to precipitation. So when it rains that is not actually all the moisture that the storm can produce. Cloud seeding takes advantage of it. When you seed clouds you make use of larger particles to make rain clouds reach their saturation point sooner. This is done by "seeding" rain clouds with crystals. The most commonly used substances in cloud seeding are silver iodide. The reason this substance is used because it has a structure similar to the ice crystals formed in clouds.
Cloud seeding as a science has been around in the 40s but no few countries have full used it to affect weather in their country. The United States abandoned this during during the 70s and only a hand full of states are still experimenting. However nations like China which are desperate for rain due to drought are taking it to the next level. The Chinese not only used cloud seeding to increase rainfall in the northern region region of China, but also to prepare Beijing for the Olympics.
The future of cloud seeding is not clear. While there are some results no one can completely predict how well it will work from situation to situation. Each cloud and storm system is unique. Maybe when meteorologist are better able to predict storms real progress can be made.
If you enjoyed this article there are several others on Universe Today that you can enjoy. There is a great article on how clouds are formed. There is also an interesting article on cloud types.
You can also check out these online sites for more information. There is a more detailed description of cloud seeding on howstuffworks.com. You can also check out Utah's Water Division website. It talks about the basics of cloud seeding and the state's efforts.
You can also check out Astronomy Cast. Episode 151 talks about atmospheres and their various phenomena.