Want to stay on top of all the space news? Follow @universetoday on Twitter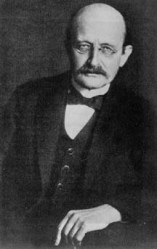 What is a quantum? A quantum is the smallest unit of matter in an interaction. We use this unit when we are talking about physical interactions at the atomic and subatomic level. The quantum plays an important role in our understanding of physics at the atomic level. It even lends its name to this field of physics called quantum physics.
To better understand what a quantum is you need to know more about what is involved in quantum physics. It deals with the interactions of matter at the atomic and subatomic level. This field of science rose to prominence due to an interesting conundrum in physics. Up until the 20th century classical Newtonian physics and all scientist believed that Newton's laws of motion effectively described the entire universe. However this view had a flaw. While Newtonian Physics effectively explains motion and interactions of forces,energy, and matter on the macroscopic scale it does not work on the atomic scale.
After discovering the atom, scientist started to observe that matter at the atomic and subatomic level did not functions according to Newtonian physics. As a matter, of fact according the classical mechanics atoms as they came to understood their structure could not exist.
This forced physicists to reexamine their understanding of physics and find an explanation of how it worked on the atomic level. The first major breakthrough came with Planck's Constant. The Physicist Max Plank proposed the idea of a quantum a the smallest discrete unit of energy. He went on to propose that interactions between particles where essentially exchanges of these small packets of energy and that they could be measured.
This would not be fully accepted until further efforts by other physicists like Einstein started to draw the connection between energy and matter. The came to find out that particles of matter was actually packaged quanta of energy. This also lead to the discovery of photons and their nature as both waves and particle. Essentially the true nature of particles on the atomic and subatomic level was discovered and with it the true foundation of all physics.
We now understand that Classical Mechanics is only effective on large systems but that quantum mechanics can be used to explain many situations. This greater understanding of our universe developed from learning more about the smallest part of it.
If you enjoyed this article there are several others on Universe Today that you will enjoy. There is a good article about electron clouds a concept that is part of quantum mechanics. There is also an interesting piece on Planck's constant.
You can also find great resources online. The Oberlin Physics web page has an article on the history of quantum physics. There is also the Joint Quantum Institute of the University of Maryland web page.
You cans also check out Astronomy Cast. Episode 138 is about quantum mechanics.
Source: Wikipedia