Want to stay on top of all the space news? Follow @universetoday on Twitter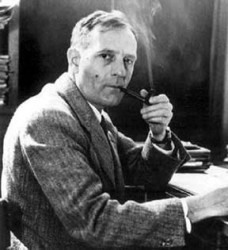 Edwin Hubble was an American astronomer who helped to redefine his field in the 20th century. His contributions to astronomy help to shape modern scientists views and conceptions of the universe and perfect major theories in the field of physics. In many ways you can say that we would not be able to even have the current understanding of our universe without his efforts.
Edwin Powell Hubble was born in Marshfield, Missouri on November 20,1889. He was born to a well to do family since his father was an executive at an insurance company. After high school he went on to study at the University of Chicago where he studied mathematics, got is bachelor of science in 1910. He went on to study at Oxford as one of the first Rhodes Scholars. Ironically he got his masters in jurisprudence. He wouldn't return to studying astronomy until after returning from service in WWII. He would later earn his PhD in Astronomy from the University of Chicago after completing his studies at the Yerkes Observatory.
The two big discoveries Edwin Hubble is know for is the existence of other galaxies and red shift. Before his time the accepted view in astronomy was that the Milky Way was the only galaxy known to astronomers. As a matter of fact the word galaxy comes from the name for our won literally meaning "milky way" when translated from the Greek. Hubble's observations overturned all these assumptions. Using the Hooker telescope, the world's largest telescope at the time, he was able to discover several nebula. The conclusions he drew from these observations confirmed that they were to far to actually be in our galaxy. At the time it was presented in 1925 this idea was considered to controversial and was opposed by many key astronomers such as Harlowe Shapely of Harvard. Thanks to his discovery the known universe expanded once again in the same way it did with the proposals of Copernicus.
Hubble's other great discovery was red shift. Other scientist had noticed the phenomena but it was not until he present the idea that it was finally considered. Red Shift was the astronomical manifestation of the Doppler effect and helped to prove that the universe is expanding. This concept is so important that Einstein almost botched his Theory of Relativity because he could not believe that his calculations were leading to the same conclusion. If it wasn't for the evidence provided by Hubble's observations one of the most important theories in physic might not exist.
If you enjoyed this article there are several others on Universe Today that you will enjoy. There is a great article about the Distance to Andromeda. There is another article about the most distant object ever seen.
There are also resources you can find online. PBS.org has a brief article on Hubble and his discoveries. Time magazine also has a great profile on his life work online.
You can also check out Astronomy Cast. Episode 162 is about Edwin Hubble and his work.
Source: NASA