Want to stay on top of all the space news? Follow @universetoday on Twitter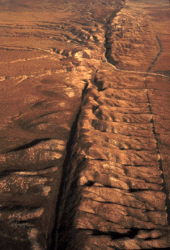 A Fault is basically a big crack in the earth's crust. They can be either shallow or deep but the deformation of the rock around them is something all faults have in common. Faults are the most visible evidence of seismic activity. That is why they are so useful in helping scientist determine plate boundaries and regions that experience geological activity.
Faults are caused when seismic activity causes stress on a layer of rock causing it to fracture then slip against itself. There are three main types of faults. The first type of fault is a dip slip fault. This is a fault that occurs where one side of a rock fracture is pushed over or beneath the other. These can be either reverse or normal. The next type of fault is the strike slip. This one is completely horizontal with little up or down movement. Instead to the two sides of the fault slip past each other horizontally. The third major type is the oblique slip fault. It is sort of a combination of both a strike slip and a dip slip fault. There are other less common types of faults such as ring faults and lispic faults. There are more circular in shape.
Major seismic activity such as earthquakes are result of energy being released when a fault slips. This is why cities like San Francisco are at risk for earthquakes. A more recent example would be Port Au Prince, Haiti. Though the Caribbean has not experience a major earthquake for 200 years before the events, of last month the fault was there with pressure steadily building. That is what determines the force of an earthquake. In general the longer it takes for the pressure between the two sides of the fault the strong the resulting earthquake.
Nevertheless whether a fault is a seismically active area like California or in a place that see's very few earthquakes like New Jersey a fault is still a location where pressure builds up. That is why one of the main jobs of geologists is to locate fault lines. By finding these locations along with observation and measurement scientist can find what regions are at risk and find ways to help communities prepare.
If you enjoyed this article there are others on Universe Today. There is a great article about famous earthquakes. There is also a great article about fault lines on Mars.
There are also some great resources online. There is the USGS web site which has a lot of information on seismic activity. The earthquake web page on the Cal tech website is another great source of information.
You can also check out Astronomy Cast. You should definitely try checking out Episode 142 which talks about plate tectonics.
Sources:
http://en.wikipedia.org/wiki/Fault_%28geology%29
http://geomaps.wr.usgs.gov/sfgeo/quaternary/stories/what_fault.html
http://earthquake.usgs.gov/learn/faq/?faqID=55