Want to stay on top of all the space news? Follow @universetoday on Twitter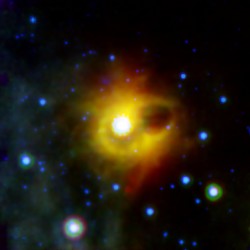 A magnetar would be a magnetic star, right? Yes, but … the 'star' is a neutron star (there are plenty of stars with magnetic fields, but only neutron stars with magnetic fields 100+ times stronger than your average-garden-variety pulsar get to be called magnetars), and the magnetic field has to be at least ~1015 gauss (that's ~1011 tesla; if the Moon had a magnetic field that strong, the magnetic stripe on all your credit cards would be wiped clean).
It's hard to comprehend just how strong a magnetar's magnetic field is … but consider that the strongest permanent magnet, here on Earth, is about 1 tesla, and that a magnetar's is at least 100 billion times that.
Observationally, magnetars appear as soft-gamma repeaters (SGRs) and anomalous x-ray pulsars (AXPs); and we know this because? Because of a model, proposed by Duncan and Thompson (in 1992), which can account for the features of these objects!
Like all neutron stars, magnetars form as a result of a core-collapse supernova … so they are about 20 km in diameter, and have a mass of a sol or three (a 'sol' is a unit of mass, equal to the mass of the Sun). Magnetars may be a phase in the life of many (perhaps most) pulsars, or only a very few pulsars are – or can be – magnetars, or … in any case, magnetars get their incredibly strong fields from a dynamo which operated when they were born, fields which became frozen in when the dynamo ceased (a very fast rotation is necessary for this mechanism to work).
Magnetars were discovered in 1979, when a powerful blast of gamma rays swept through the solar system, and sent gamma ray detectors off the charts (this event also produced detectable changes in the Earth's upper atmosphere). This was the first SGR, and was easy (in hindsight!) to distinguish from gamma ray bursts (GRBs) by the highly periodic train of pulses following the main burst.
Want more? Try "Magnetar" discovery solves 19-year-old mystery (Science@NASA), Magnetars (University of Texas, Austin, Duncan's own webpage), and Magnetar (Swinburne University).
Here at Universe Today, we just love magnetars … so many articles and stories on them! Here's a random selection: Spitzer Spies Ghostly Magnetar, Could Quark Stars Explain Magnetars Strong Magnetic Field?, and Magnetar Crackles with Radio Waves.
Astronomy Cast covers magnetars in its Pulsars, Gamma Ray Astronomy, and Magnetism Everywhere episodes; be sure to check them out!
Source: Wikipedia